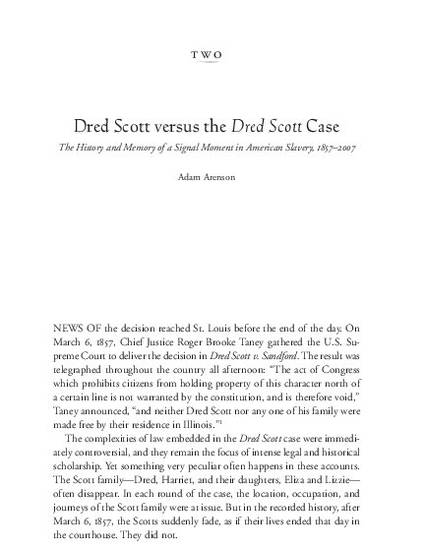 Contribution to Book
Dred Scott vs. the Dred Scott Case: History and Memory of a Signal Moment in American Slavery, 1857-2007
The Dred Scott Case: Historical and Contemporary Perspectives on Race and Law (2010)
Abstract
The Dred Scott Case centered on the Scott family—Dred and Harriet, and their daughters Eliza and Lizzie—but in the recorded history, after March 6, 1857 the Scotts suddenly fade, as if their lives ended that day in the courthouse. They did not. Elsewhere I have examined how the Dred Scott decision catalyzed the transformation of St. Louis politics, turning Missouri toward gradual emancipation just as the South's proslavery advocates were declaring victory. And I have described how the Scotts' lives were recovered to memory through the actions spearheaded by their descendents. Here I chronicle how the legacies of the Dred Scott Case were long divorced from the fate and commemoration of the Scott family, in political rhetoric as well as scholarly dialogue. To reunite the Scott family and the Dred Scott Case is to add the human cost to the legal significance of this signal moment in American history.
Keywords
Dred Scott,
Harriet Scott,
memory,
law,
justice
Editor
Paul Finkelman, David Konig, and Christopher Bracey
Publisher
Ohio University Press
Citation Information
"Dred Scott vs. the
Dred Scott Case
: History and Memory of a Signal Moment in American Slavery, 1857-2007," in
The Dred Scott Case: Historical and Contemporary Perspectives on Race and Law
Paul Finkelman, David Konig, and Christopher Bracey, eds., Ohio University Press (expected 2009).