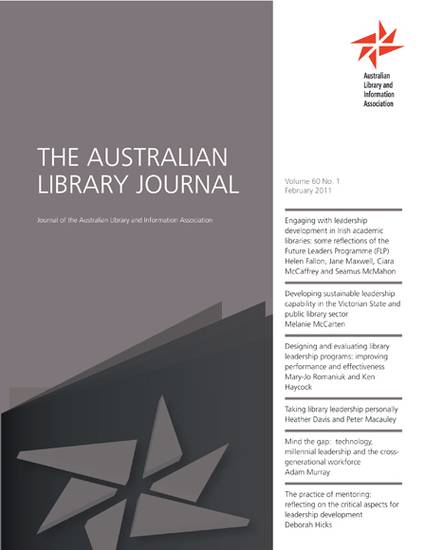 Article
Mind the gap: technology, millennial leadership and the cross-generational workforce
Australian Library Journal (2011)
Abstract
It comes as no surprise that different generations respond to and utilise emerging technology in vastly different ways. However as more Millennials take on leadership positions within academic libraries, their attitudes towards and uses of technology may bring conflicting expectations for leadership to the forefront. What are the generational traits and motivations of the Millennial and how will they manifest themselves as a style of leadership? What are some areas of tension arising from Millennial leadership and technology utilisation, and what steps can the Millennial leader take to alleviate such tension? Written by a Millennial who became a Dean of University Libraries at the age of 29, this article explores the challenges faced by the Millennial leader and the inherent opportunities for growth at both the personal and the organisational levels.
Keywords
Leadership Styles,
Research Libraries,
Academic Libraries,
Library Development,
Library Administration,
Influence of Technology,
Technology Integration,
Generational Differences,
Motivation,
Personality Traits,
Conflict,
Change Strategies,
Organizational Change,
Library Automation,
Higher Education
Publication Date
February, 2011
DOI
10.1080/00049670.2011.10722556
Citation Information
Murray, A. (2011, February). Mind the gap: technology, millennial leadership and the cross-generational workforce. Australian Library Journal: Special Issue: Library leadership: creating and sustaining a performance development culture 60 (1), 54-65. doi:10.1080/00049670.2011.10722556.