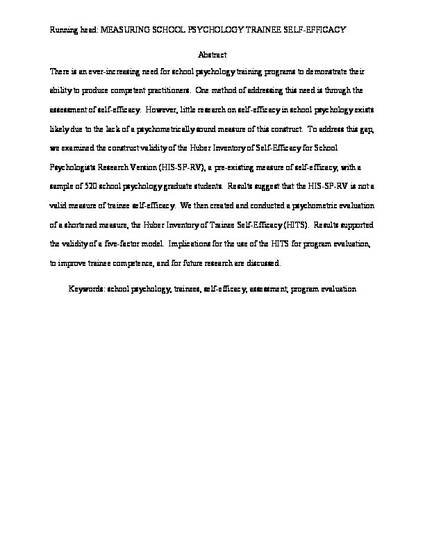 Article
Measuring School Psychology Trainee Self-Efficacy
Psychology in the Schools (2017)
Abstract
There is an ever-increasing need for school psychology training programs to demonstrate their
ability to produce competent practitioners. One method of addressing this need is through the
assessment of self-efficacy. However, little research on self-efficacy in school psychology exists
likely due to the lack of a psychometrically sound measure of this construct. To address this gap,
we examined the construct validity of the Huber Inventory of Self-Efficacy for School
Psychologists Research Version (HIS-SP-RV), a pre-existing measure of self-efficacy, with a
sample of 520 school psychology graduate students. Results suggest that the HIS-SP-RV is not a
valid measure of trainee self-efficacy. We then created and conducted a psychometric evaluation
of a shortened measure, the Huber Inventory of Trainee Self-Efficacy (HITS). Results supported
the validity of a five-factor model. Implications for the use of the HITS for program evaluation,
to improve trainee competence, and for future research are discussed.
Keywords
school psychology,
trainees,
self-efficacy,
assessment,
program evaluation
Citation Information
Lockwood, A. B., Mcclure, J., Sealander, K. and Baker, C. N. (2017), Measuring school psychology trainee self-efficacy . Psychology in the Schools., 54: 655–670. doi:10.1002/pits.22016