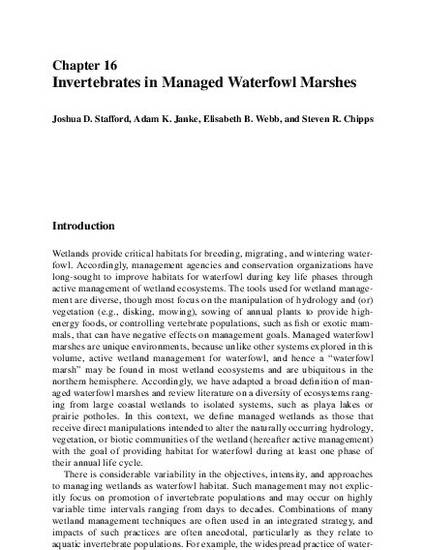 Contribution to Book
Invertebrates in Managed Waterfowl Marshes
Invertebrates in Freshwater Wetlands (2016)
Abstract
Invertebrates are an important food for breeding, migrating, and wintering waterfowl. Sparse study has been devoted to understanding the influence of waterfowl and wetland management on production of invertebrates for waterfowl foods; however, manipulation of hydrology and soils may change or enhance production. Fish can compete with waterfowl for invertebrate forage in wetlands and harm aquatic macrophytes; biomanipulation (e.g., stocking piscivores) may improve waterfowl habitat quality. Similarly, some terrestrial vertebrates (e.g., beaver (
Castor canadensis
)) may positively or negatively impact invertebrate communities in waterfowl habitats. Various challenges exist to wetland management for invertebrates for waterfowl, but the lack of data on factors influencing production may be the most limiting.
Keywords
Biomanipulation,
Hydrology,
Management,
Moist-soil,
Production,
Soil disturbance,
Vegetation
Editor
Darold Batzer and Dani Boix
Publisher
Springer International Publishing
DOI
10.1007/978-3-319-24978-0_16
Citation Information
Joshua D. Stafford, Adam K. Janke, Elisabeth B. Webb and Steven R. Chipps. "Invertebrates in Managed Waterfowl Marshes"
Invertebrates in Freshwater Wetlands
(2016) p. 565 - 600
Available at: http://works.bepress.com/adam-janke/3/