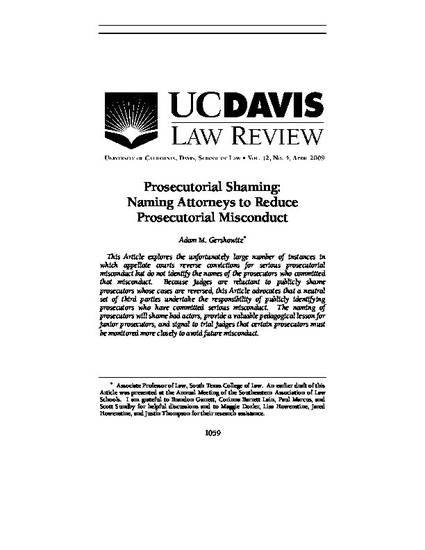 Article
Prosecutorial Shaming: Naming Attorneys to Reduce Prosecutorial Misconduct
42 U.C. Davis Law Review 1059-1105 (2009)
Abstract
This Article explores the unfortunately large number of instances in which appellate courts reverse convictions for serious prosecutorial misconduct but do not identify the names of the prosecutors who committed that misconduct. Because judges are reluctant to publicly shame prosecutors whose cases are reversed, this Article advocates that a neutral set of third parties undertake the responsibility of publicly identifying prosecutors who have committed serious misconduct. The naming of prosecutors will shame bad actors, provide a valuable pedagogical lesson for junior prosecutors, and signal to trial judges that certain prosecutors must be monitored more closely to avoid future misconduct.
Publication Date
4-1-2009
Citation Information
Adam M. Gershowitz. "Prosecutorial Shaming: Naming Attorneys to Reduce Prosecutorial Misconduct"
42 U.C. Davis Law Review 1059-1105 (2009)
(2009)
Available at: http://works.bepress.com/adam-gershowitz/31/