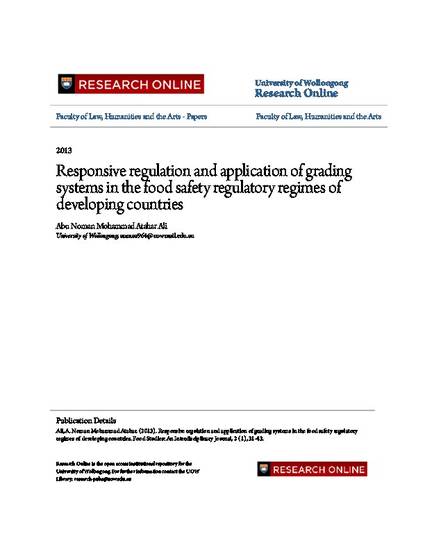 Article
Responsive regulation and application of grading systems in the food safety regulatory regimes of developing countries
Food Studies: An Interdisciplinary Journal (2013)
Abstract
The traditional tit-for-tat philosophy in the food safety regulatory regime in most developing countries has been proven ineffective in most cases. Rather, starting with persuasion, advice, and then escalating to more severe punishments for the continuing non-compliance as suggested in the responsive regulation by Ayres and Braithwaite has been proved more effective in the food safety regulatory regime of some jurisdictions. Responsive regulation aims to increase responsibility among corporations. So, if a corporation shows responsibility, it should be rewarded, and if a corporation shows irresponsibility, it should be reprimanded (if necessary). There is no logic in seeing and treating every manufacturer the same, considering their regular compliance or regular non-compliance with regulation. Furthermore, in a free market economy, food manufacturers have to compete everyday with their counterparts in regard to safety and standards. Considering these situations, current research suggests that the grading system can be introduced into the food safety regulatory regime of developing countries. Once the food manufacturers are rewarded for their compliance by upgrading their current grade, they can use this reward for advertising, which will help their business flourish. Conversely, if any manufacturer shows irresponsibility and continuously produces unsafe and low quality food, it can be degraded from an upper to lower grade. However, even the lowest graded manufacturer will have to maintain the minimum standard of safety required by the state regulations. This concept can be called "responsibility ensures upgrading, irresponsibility risks downgrading". In short, this article suggests that the responsive regulation can be applied by moderating with grading system in the food safety regulatory regime of the developing countries. A qualitative research method has been used in this research, and extensive literature has been analysed.
Keywords
Food Grading,
Food Safety Regulation,
Developing Countries,
Responsive Regulation,
Grading System
Publication Date
Spring May 20, 2013
Citation Information
Abu Noman M. Atahar Ali. "Responsive regulation and application of grading systems in the food safety regulatory regimes of developing countries"
Food Studies: An Interdisciplinary Journal
Vol. 2 Iss. 1 (2013)
Available at: http://works.bepress.com/abunoman_ataharali/4/