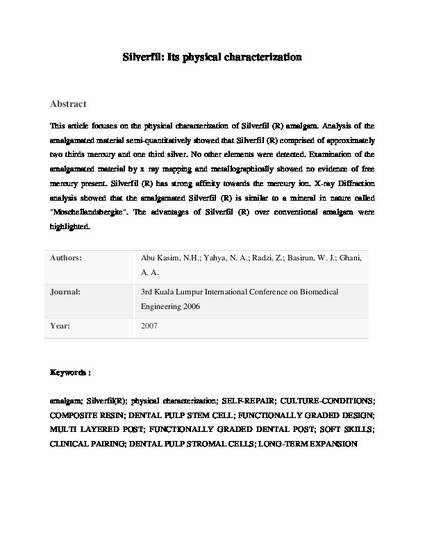 Article
Silverfil: Its physical characterization
3rd Kuala Lumpur International Conference on Biomedical Engineering 2006 (2007)
Abstract
This article focuses on the physical characterization of Silverfil (R) amalgam. Analysis of the amalgamated material semi-quantitatively showed that Silverfil (R) comprised of approximately two thirds mercury and one third silver. No other elements were detected. Examination of the amalgamated material by x ray mapping and metallographically showed no evidence of free mercury present. Silverfil (R) has strong affinity towards the mercury ion. X-ray Diffraction analysis showed that the amalgamated Silverfil (R) is similar to a mineral in nature called "Moschellandsbergite". The advantages of Silverfil (R) over conventional amalgam were highlighted.
Keywords
amalgam; Silverfil((R)); physical characterization; SELF-REPAIR; CULTURE-CONDITIONS; COMPOSITE RESIN; DENTAL PULP STEM CELL; FUNCTIONALLY GRADED DESIGN; MULTI LAYERED POST; FUNCTIONALLY GRADED DENTAL POST; SOFT SKILLS; CLINICAL PAIRING; DENTAL PULP STROMAL CELLS; LONG-TERM EXPANSION
Citation Information
Noor Hayaty Abu Kasim. "Silverfil: Its physical characterization"
3rd Kuala Lumpur International Conference on Biomedical Engineering 2006
Vol. 15 (2007)
Available at: http://works.bepress.com/abukasim_nh/5/