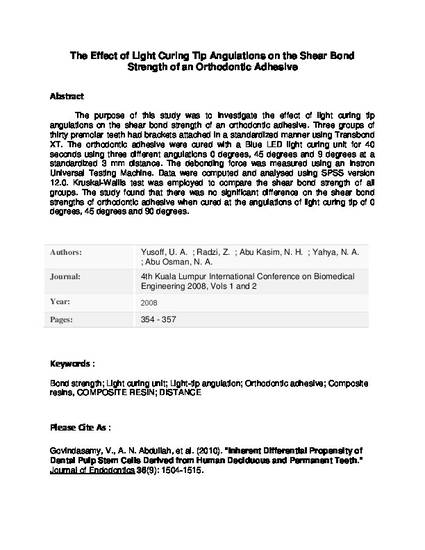 Article
The Effect of Light Curing Tip Angulations on the Shear Bond Strength of an Orthodontic Adhesive
4th Kuala Lumpur International Conference on Biomedical Engineering 2008, Vols 1 and 2 (2008)
Abstract
The purpose of this study was to investigate the effect of light curing tip angulations on the shear bond strength of an orthodontic adhesive. Three groups of thirty premolar teeth had brackets attached in a standardized manner using Transbond XT. The orthodontic adhesive were cured with a Blue LED light curing unit for 40 seconds using three different angulations 0 degrees, 45 degrees and 9 degrees at a standardized 3 mm distance. The debonding force was measured using an Instron Universal Testing Machine. Data were computed and analysed using SPSS version 12.0. Kruskal-Wallis test was employed to compare the shear bond strength of all groups. The study found that there was no significant difference on the shear bond strengths of orthodontic adhesive when cured at the angulations of light curing tip of 0 degrees, 45 degrees and 90 degrees.
Keywords
Bond strength; Light curing unit; Light-tip angulation; Orthodontic adhesive; Composite resins; COMPOSITE RESIN; DISTANCE; SELF-REPAIR; CULTURE-CONDITIONS; COMPOSITE RESIN; DENTAL PULP STEM CELL; FUNCTIONALLY GRADED DESIGN; MULTI LAYERED POST; FUNCTIONALLY GRADED DENTAL POST; SOFT SKILLS; CLINICAL PAIRING; DENTAL PULP STROMAL CELLS; LONG-TERM EXPANSION; ROLLING BALL; BALL MILL;
Citation Information
Noor Hayaty Abu Kasim. "The Effect of Light Curing Tip Angulations on the Shear Bond Strength of an Orthodontic Adhesive"
4th Kuala Lumpur International Conference on Biomedical Engineering 2008, Vols 1 and 2
Vol. 21 Iss. 1-2 (2008)
Available at: http://works.bepress.com/abukasim_nh/46/