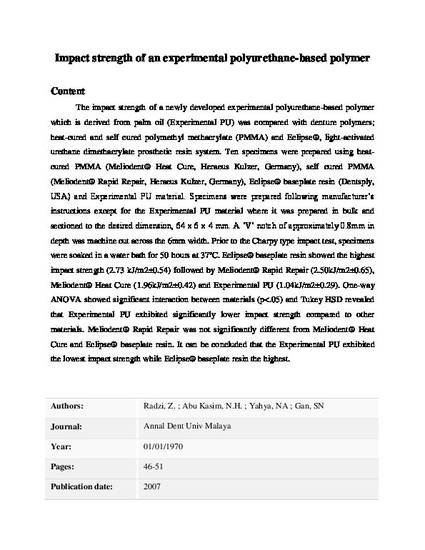 Article
Impact strength of an experimental polyurethane-based polymer
Annal Dent Univ Malaya (1970)
Abstract
The impact strength of a newly developed experimental polyurethane-based polymer which is derived from palm oil (Experimental PU) was compared with denture polymers; heat-cured and self cured polymethyl methacrylate (PMMA) and Eclipse®, light-activated urethane dimethacrylate prosthetic resin system. Ten specimens were prepared using heat-cured PMMA (Meliodent® Heat Cure, Heraeus Kulzer, Germany), self cured PMMA (Meliodent® Rapid Repair, Heraeus Kulzer, Germany), Eclipse® baseplate resin (Dentsply, USA) and Experimental PU material. Specimens were prepared following manufacturer's instructions except for the Experimental PU material where it was prepared in bulk and sectioned to the desired dimension, 64 x 6 x 4 mm. A 'V' notch of approximately 0.8mm in depth was machine cut across the 6mm width. Prior to the Charpy type impact test, specimens were soaked in a water bath for 50 hours at 37ºC. Eclipse® baseplate resin showed the highest impact strength (2.73 kJ/m2±0.54) followed by Meliodent® Rapid Repair (2.50kJ/m2±0.65), Meliodent® Heat Cure (1.96kJ/m2±0.42) and Experimental PU (1.04kJ/m2±0.29). One-way ANOVA showed significant interaction between materials (p<.05) and Tukey HSD revealed that Experimental PU exhibited significantly lower impact strength compared to other materials. Meliodent® Rapid Repair was not significantly different from Meliodent® Heat Cure and Eclipse® baseplate resin. It can be concluded that the Experimental PU exhibited the lowest impact strength while Eclipse® baseplate resin the highest.
Keywords
impact strength; denture based material; dental polymer; SELF-REPAIR; CULTURE-CONDITIONS; COMPOSITE RESIN; DENTAL PULP STEM CELL; FUNCTIONALLY GRADED DESIGN; MULTI LAYERED POST; FUNCTIONALLY GRADED DENTAL POST; SOFT SKILLS; CLINICAL PAIRING; DENTAL PULP STROMAL CELLS; LONG-TERM EXPANSION
Publication Date
January 1, 1970
Citation Information
Noor Hayaty Abu Kasim. "Impact strength of an experimental polyurethane-based polymer"
Annal Dent Univ Malaya
Vol. 14 (1970)
Available at: http://works.bepress.com/abukasim_nh/29/