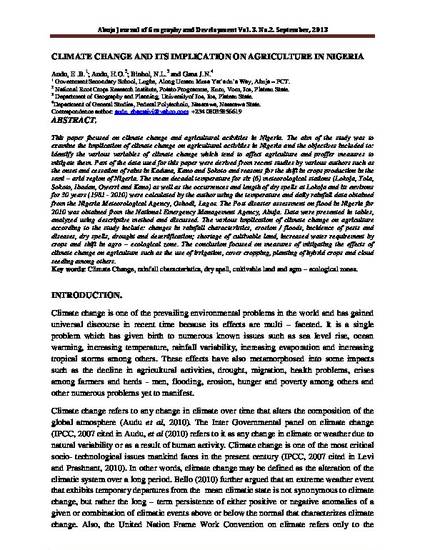 Article
CLIMATE CHANGE AND ITS IMPLICATION ON AGRICULTURE IN NIGERIA
Abuja Journal of Geography and Development (2013)
Abstract
This paper focused on climate change and agricultural activities in Nigeria. The aim of the study was to examine the implication of climate change on agricultural activities in Nigeria and the objectives included to: identify the various variables of climate change which tend to affect agriculture and proffer measures to mitigate them. Part of the data used for this paper were derived from recent studies by various authors such as the onset and cessation of rains in Kaduna, Kano and Sokoto and reasons for the shift in crops production in the semi – arid region of Nigeria. The mean decadal temperature for six (6) meteorological stations (Lokoja, Yola, Sokoto, Ibadan, Owerri and Kano) as well as the occurrences and length of dry spells at Lokoja and its environs for 30 years (1981 - 2010) were calculated by the author using the temperature and daily rainfall data obtained from the Nigeria Meteorological Agency, Oshodi, Lagos. The Post disaster assessment on flood in Nigeria for 2010 was obtained from the National Emergency Management Agency, Abuja. Data were presented in tables, analyzed using descriptive method and discussed. The various implication of climate change on agriculture according to the study include: changes in rainfall characteristics, erosion / floods, incidence of pests and diseases, dry spells, drought and desertification; shortage of cultivable land, increased water requirement by crops and shift in agro – ecological zone. The conclusion focused on measures of mitigating the effects of climate change on agriculture such as the use of irrigation, cover cropping, planting of hybrid crops and cloud seeding among others.
Keywords
Climate Change,
rainfall characteristics,
dry spell,
cultivable land and agro – ecological zones.
Citation Information
E B Audu, H O Audu, N L Binbol and J N Gana. "CLIMATE CHANGE AND ITS IMPLICATION ON AGRICULTURE IN NIGERIA"
Abuja Journal of Geography and Development
Vol. 3 Iss. 2 (2013)
Available at: http://works.bepress.com/abujajournalofgeographyanddevelopment_geographyandenvironmentalmanagementdepartment/8/