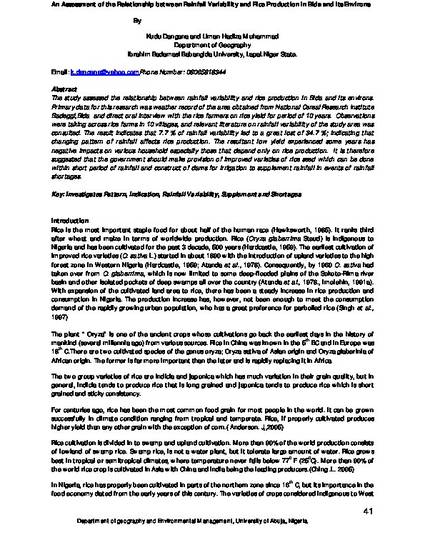 Article
An Assessment of the Relationship between Rainfall Variability and Rice Production in Bida and its Environs
Abuja Journal of Geography and Development (2013)
Abstract
The study assessed the relationship between rainfall variability and rice production in Bida and its environs. Primary data for this research was weather record of the area obtained from National Cereal Research Institute Badeggi,Bida and direct oral interview with the rice farmers on rice yield for period of 10 years. Observations were taking across rice farms in 10 villages, and relevant literature on rainfall variability of the study area was consulted. The result indicates that 7.7 % of rainfall variability led to a great lost of 34.7 %; indicating that changing pattern of rainfall affects rice production. The resultant low yield experienced some years has negative impacts on various household especially those that depend only on rice production. It is therefore suggested that the government should make provision of improved varieties of rice seed which can be done within short period of rainfall and construct of dams for irrigation to supplement rainfall in events of rainfall shortages.
Keywords
investigates pattern,
indication,
rainfall,
supplement,
shortages
Citation Information
K Dangana and L H Muhammed. "An Assessment of the Relationship between Rainfall Variability and Rice Production in Bida and its Environs"
Abuja Journal of Geography and Development
Vol. 3 Iss. 2 (2013)
Available at: http://works.bepress.com/abujajournalofgeographyanddevelopment_geographyandenvironmentalmanagementdepartment/5/