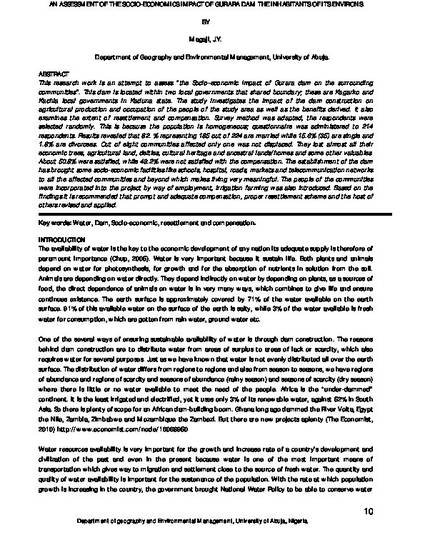 Article
AN ASSESSMENT OF THE SOCIO-ECONOMIC IMPACT OF GURARA DAM ON THE INHABITANTS AND ITS ENVIRONS
Abuja Journal of Geography and Development (2013)
Abstract
This research work is an attempt to assess "the Socio–economic Impact of Gurara dam on the surrounding communities". This dam is located within two local governments that shared boundary; these are Kagarko and Kachia local governments in Kaduna state. The study investigates the impact of the dam construction on agricultural production and occupation of the people of the study area as well as the benefits derived. It also examines the extent of resettlement and compensation. Survey method was adapted, the respondents were selected randomly. This is because the population is homogeneous; questionnaire was administered to 214 respondents. Results revealed that 82. % representing 185 out of 224 are married while 15.6% (35) are single and 1.8% are divorcees. Out of eight communities affected only one was not displaced. They lost almost all their economic trees, agricultural land, deities, cultural heritage and ancestral lands/homes and some other valuables. About 50.8% were satisfied, while 49.2% were not satisfied with the compensation. The establishment of the dam has brought some socio-economic facilities like schools, hospital, roads, markets and telecommunication networks to all the affected communities and beyond which makes living very meaningful. The people of the communities were incorporated into the project by way of employment, irrigation farming was also introduced. Based on the findings it is recommended that prompt and adequate compensation, proper resettlement scheme and the host of others revised and applied.
Keywords
water,
dam,
socio-economic,
resettlement and compensation
Citation Information
J Y Magaji. "AN ASSESSMENT OF THE SOCIO-ECONOMIC IMPACT OF GURARA DAM ON THE INHABITANTS AND ITS ENVIRONS"
Abuja Journal of Geography and Development
Vol. 3 Iss. 2 (2013)
Available at: http://works.bepress.com/abujajournalofgeographyanddevelopment_geographyandenvironmentalmanagementdepartment/2/