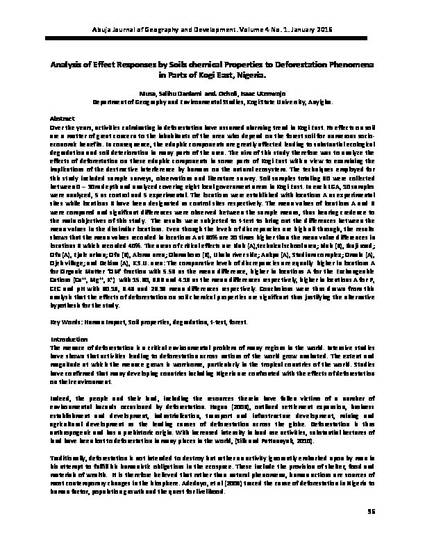 Article
Analysis of Effect Responses by Soils Chemical Properties to Deforestation Phenomena in Parts of Kogi East, Nigeria.
Abuja Journal of Geography and Development (2016)
Abstract
Over the years, activities culminating in deforestation have assumed alarming trend in Kogi East. Its effects on soil are a matter of great concern to the inhabitants of the area who depend on the forest soil for numerous socio-economic benefits. In consequence, the edaphic components are greatly affected leading to substantial ecological degradation and soil deterioration in many parts of the area. The aim of this study therefore was to analyze the effects of deforestation on these edaphic components in some parts of Kogi East with a view to examining the implications of the destructive interference by humans on the natural ecosystem. The techniques employed for this study included sample surveys, observations and literature survey. Soil samples totaling 80 were collected between 0 – 30m depth and analyzed covering eight local government areas in Kogi East. In each LGA, 10 samples were analyzed, 5 as control and 5 experimental. The locations were established with locations A as experimental sites while locations B have been designated as control sites respectively. The mean values of locations A and B were compared and significant differences were observed between the sample means, thus bearing credence to the main objectives of this study.  The results were subjected to t-test to bring out the differences between the mean values in the dissimilar locations. Even though the levels of discrepancies are high all through, the results shows that the mean values recorded in locations A at 60% are 20 times higher than the mean value differences in locations B which recorded 40%. The areas of critical effects are Idah (A),technical school area; Idah (B), Ibaji road; Ofu (A), Ejule urban; Ofu (B), Aloma area; Olamaboro (B), Ubalu river side; Ankpa (A), Stadium complex; Omala (A), Ojeh village; and Dekina (A), K.S.U. area: The comparative levels of discrepancies are equally  higher in locations A for Organic Matter 'OM' fraction with 5.59 as the mean difference, higher in locations A for the Exchangeable Cations (Ca++, Mg++, K+)  with 15.60, 6.99 and 4.19 as the mean differences respectively, higher in locations A for P, CEC and pH with 60.19, 6.49 and 26.39 mean differences respectively. Conclusions were thus drawn from this analysis that the effects of deforestation on soil chemical properties are significant thus justifying the alternative hypothesis for the study.
Keywords
Human Impact,
Soil properties,
degradation,
t-test,
forest.
Publication Date
Spring January 6, 2016
Citation Information
Salihu D Musa and Isaac U Ocholi. "Analysis of Effect Responses by Soils Chemical Properties to Deforestation Phenomena in Parts of Kogi East, Nigeria."
Abuja Journal of Geography and Development
Vol. 4 Iss. 1 (2016) p. 96 - 105
Available at: http://works.bepress.com/abujajournalofgeographyanddevelopment_geographyandenvironmentalmanagementdepartment/19/