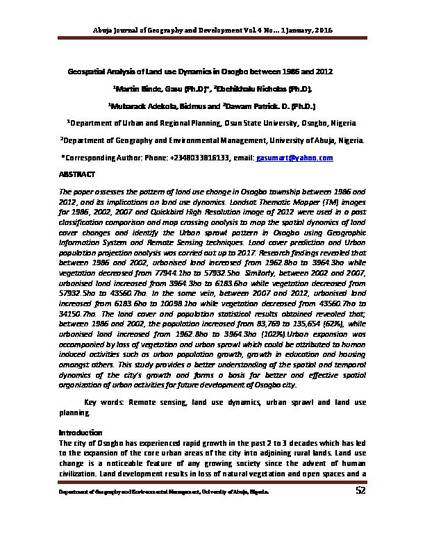 Article
Geospatial Analysis of Land use Dynamics in Osogbo between 1986 and 2012
Abuja journal of Geography and development (2016)
Abstract
The paper assesses the pattern of land use change in Osogbo township between 1986 and 2012, and its implications on land use dynamics. Landsat Thematic Mapper (TM) images for 1986, 2002, 2007 and Quickbird High Resolution image of 2012were used in a post classification comparison and map crossing analysis to map the spatial dynamics of land cover changes and identify the Urban sprawl pattern in Osogbo using Geographic Information System and Remote Sensing techniques. Land cover prediction and Urban population projection analysis was carried out up to 2017. Research findings revealed that between 1986 and 2002, urbanised land increased from 1962.8ha to 3964.3ha while vegetation decreased from 77944.1ha to 57932.5ha. Similarly, between 2002 and 2007, urbanised land increased from 3964.3ha to 6183.6ha while vegetation decreased from 57932.5ha to 43560.7ha. In the same vein, between 2007 and 2012, urbanised land increased from 6183.6ha to 10098.1ha while vegetation decreased from 43560.7ha to 34150.7ha. The land cover and population statistical results obtained revealed that; between 1986 and 2002, the population increased from 83,769 to 135,654 (62%), while urbanised land increased from 1962.8ha to 3964.3ha (102%).Urban expansion was accompanied by loss of vegetation and urban sprawl which could be attributed to human induced activities such as urban population growth, growth in education and housing amongst others. This study provides a better understanding of the spatial and temporal dynamics of the city's growth and forms a basis for better and effective spatial organization of urban activities for future development of Osogbo city
.
Keywords
Remote sensing,
land use dynamics,
urban sprawl and land use planning.
Publication Date
Winter January 3, 2016
Citation Information
Gasu MB Depaertment of Urban and Regional Planning, Osun State University, Nigeria. "Geospatial Analysis of Land use Dynamics in Osogbo between 1986 and 2012"
Abuja journal of Geography and development
Vol. 4 Iss. 1 (2016) p. 59 - 68
Available at: http://works.bepress.com/abujajournalofgeographyanddevelopment_geographyandenvironmentalmanagementdepartment/16/
Creative Commons license
This work is licensed under a Creative Commons CC_BY International License.