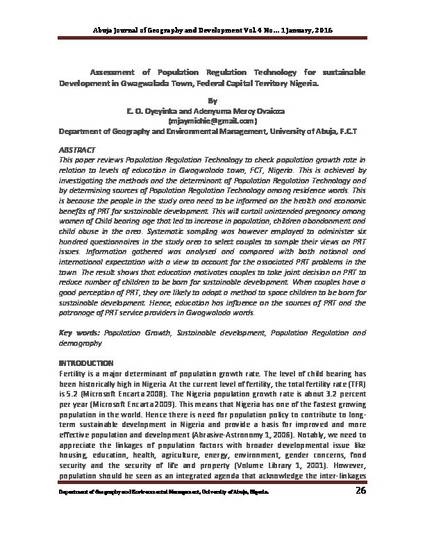 Article
Assessment of Population Regulation Technology for sustainable Development in Gwagwalada Town, Federal Capital Territory Nigeria
Abuja Journal of Geography and Development (2016)
Abstract
This paper reviews Population Regulation Technology to check population growth rate in relation to levels of education in Gwagwalada town, FCT, Nigeria. This is achieved by investigating the methods and the determinant of Population Regulation Technology and by determining sources of Population Regulation Technology among residence wards. This is because the people in the study area need to be informed on the health and economic benefits of PRT for sustainable development. This will curtail unintended pregnancy among women of Child bearing age that led to increase in population, children abandonment and child abuse in the area. Systematic sampling was however employed to administer six hundred questionnaires in the study area to select couples to sample their views on PRT issues. Information gathered was analysed and compared with both national and international expectation with a view to account for the associated PRT problems in the town. The result shows that education motivates couples to take joint decision on PRT to reduce number of children to be born for sustainable development. When couples have a good perception of PRT, they are likely to adopt a method to space children to be born for sustainable development. Hence, education has influence on the sources of PRT and the patronage of PRT service providers in Gwagwalada wards.
Keywords
Population Growth,
Sustainable development,
Population Regulation and demography
Publication Date
Winter January 3, 2016
Citation Information
Oyeyinka EO Geography and Environmental Management Department, University of Abuja, Nigeria and Adenyuma MO Department of Geography and Environmental Management, University of Abuja, Nigeria. "Assessment of Population Regulation Technology for sustainable Development in Gwagwalada Town, Federal Capital Territory Nigeria"
Abuja Journal of Geography and Development
Vol. 4 Iss. 1 (2016) p. 26 - 37
Available at: http://works.bepress.com/abujajournalofgeographyanddevelopment_geographyandenvironmentalmanagementdepartment/14/
Creative Commons license
This work is licensed under a Creative Commons CC_BY International License.