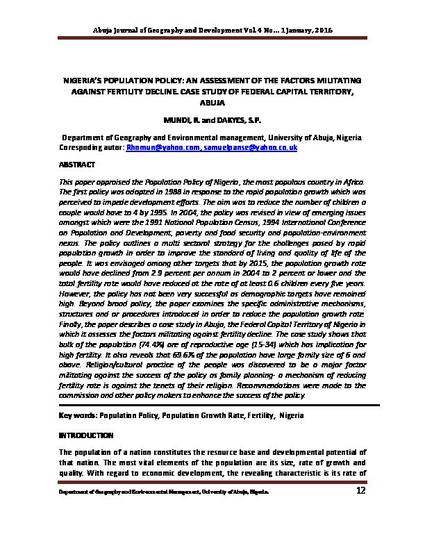 Article
NIGERIA'S POPULATION POLICY: AN ASSESSMENT OF THE FACTORS MILITATING AGAINST FERTILITY DECLINE. CASE STUDY OF FEDERAL CAPITAL TERRITORY, ABUJA
Abuja Journal of Geography and Development (2016)
Abstract
This paper appraised the Population Policy of Nigeria, the most populous country in Africa. The first policy was adopted in 1988 in response to the rapid population growth which was perceived to impede development efforts. The aim was to reduce the number of children a couple would have to 4 by 1995. In 2004, the policy was revised in view of emerging issues amongst which were the 1991 National Population Census, 1994 International Conference on Population and Development, poverty and food security and population-environment nexus. The policy outlines a multi sectoral strategy for the challenges posed by rapid population growth in order to improve the standard of living and quality of life of the people. It was envisaged among other targets that by 2015, the population growth rate would have declined from 2.9 percent per annum in 2004 to 2 percent or lower and the total fertility rate would have reduced at the rate of at least 0.6 children every five years. However, the policy has not been very successful as demographic targets have remained high. Beyond broad policy, the paper examines the specific administrative mechanisms, structures and or procedures introduced in order to reduce the population growth rate. Finally, the paper describes a case study in Abuja, the Federal Capital Territory of Nigeria in which it assesses the factors militating against fertility decline. The case study shows that bulk of the population (74.4%) are of reproductive age (15-34) which has implication for high fertility. It also reveals that 69.6% of the population have large family size of 6 and above. Religion/cultural practice of the people was discovered to be a major factor militating against the success of the policy as family planning- a mechanism of reducing fertility rate is against the tenets of their religion. Recommendations were made to the commission and other policy makers to enhance the success of the policy. 
Keywords
Population Policy,
Population Growth Rate,
Fertility,
Nigeria
Publication Date
Winter January 3, 2016
Citation Information
Mundi R Geography and Environmental Management Department, University of Abuja, Nigeria and Dakyes SP Department of Geography and Environmental Management, University of Abuja, Nigeria. "NIGERIA'S POPULATION POLICY: AN ASSESSMENT OF THE FACTORS MILITATING AGAINST FERTILITY DECLINE. CASE STUDY OF FEDERAL CAPITAL TERRITORY, ABUJA"
Abuja Journal of Geography and Development
Vol. 4 Iss. 1 (2016) p. 12 - 36
Available at: http://works.bepress.com/abujajournalofgeographyanddevelopment_geographyandenvironmentalmanagementdepartment/13/
Creative Commons license
This work is licensed under a Creative Commons CC_BY International License.