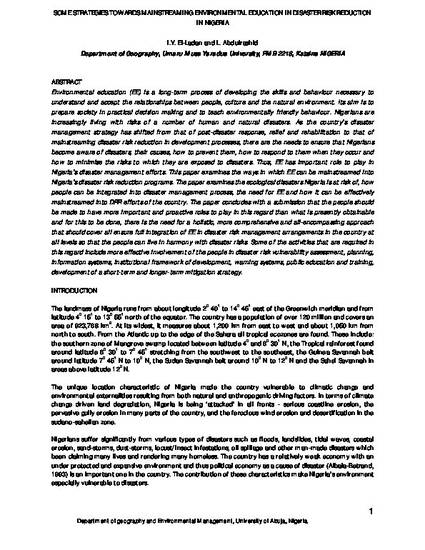 Article
SOME STRATEGIES TOWARDS MAINSTREAMING ENVIRONMENTAL EDUCATION IN DISASTER RISK REDUCTION IN NIGERIA
Abuja Journal of Geography and Development (2013)
Abstract
Environmental education (EE) is a long-term process of developing the skills and behaviour necessary to understand and accept the relationships between people, culture and the natural environment. Its aim is to prepare society in practical decision making and to teach environmentally friendly behaviour. Nigerians are increasingly living with risks of a number of human and natural disasters. As the country's disaster management strategy has shifted from that of post-disaster response, relief and rehabilitation to that of mainstreaming disaster risk reduction in development processes, there are the needs to ensure that Nigerians become aware of disasters, their causes, how to prevent them, how to respond to them when they occur and how to minimise the risks to which they are exposed to disasters. Thus, EE has important role to play in Nigeria's disaster management efforts. This paper examines the ways in which EE can be mainstreamed into Nigeria's disaster risk reduction programs. The paper examines the ecological disasters Nigeria is at risk of, how people can be integrated into disaster management process, the need for EE and how it can be effectively mainstreamed into DRR efforts of the country. The paper concludes with a submission that the people should be made to have more important and proactive roles to play in this regard than what is presently obtainable and for this to be done, there is the need for a holistic, more comprehensive and all-encompassing approach that should cover all ensure full integration of EE in disaster risk management arrangements in the country at all levels so that the people can live in harmony with disaster risks. Some of the activities that are required in this regard include more effective involvement of the people in disaster risk vulnerability assessment, planning, information systems, institutional framework of development, warning systems, public education and training, development of a short-term and longer-term mitigation strategy.
Keywords
DRR,
behaviour,
Environmental education,
disaster,
rainfall
Publication Date
Winter 2013
Citation Information
I Y El-Ladan and L Abdulrashid. "SOME STRATEGIES TOWARDS MAINSTREAMING ENVIRONMENTAL EDUCATION IN DISASTER RISK REDUCTION IN NIGERIA"
Abuja Journal of Geography and Development
Vol. 3 Iss. 2 (2013)
Available at: http://works.bepress.com/abujajournalofgeographyanddevelopment_geographyandenvironmentalmanagementdepartment/1/