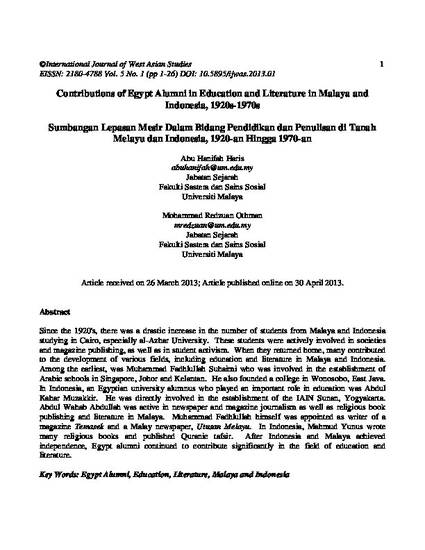 Article
Contributions of Egypt Alumni in Education and Literature in Malaya and Indonesia, 1920s-1970s
International Journal of West Asian Studies (2013)
Abstract
Since the 1920's, there was a drastic increase in the number of students from Malaya and Indonesia studying in Cairo, especially al-Azhar University. These students were actively involved in societies and magazine publishing, as well as in student activism. When they returned home, many contributed to the development of various fields, including education and literature in Malaya and Indonesia. Among the earliest, was Muhammad Fadhlullah Suhaimi who was involved in the establishment of Arabic schools in Singapore, Johor and Kelantan. He also founded a college in Wonosobo, East Java. In Indonesia, an Egyptian university alumnus who played an important role in education was Abdul Kahar Muzakkir. He was directly involved in the establishment of the IAIN Sunan, Yogyakarta. Abdul Wahab Abdullah was active in newspaper and magazine journalism as well as religious book publishing and literature in Malaya. Muhammad Fadhlullah himself was appointed as writer of a magazine Temasek and a Malay newspaper, Utusan Melayu. In Indonesia, Mahmud Yunus wrote many religious books and published Quranic tafsir. After Indonesia and Malaya achieved independence, Egypt alumni continued to contribute significantly in the field of education and literature.
Citation Information
Abu Hanifah Haris and Mohammad Redzuan Othman. "Contributions of Egypt Alumni in Education and Literature in Malaya and Indonesia, 1920s-1970s"
International Journal of West Asian Studies
Vol. 5 Iss. 1 (2013)
Available at: http://works.bepress.com/abuhanifah_haris/2/