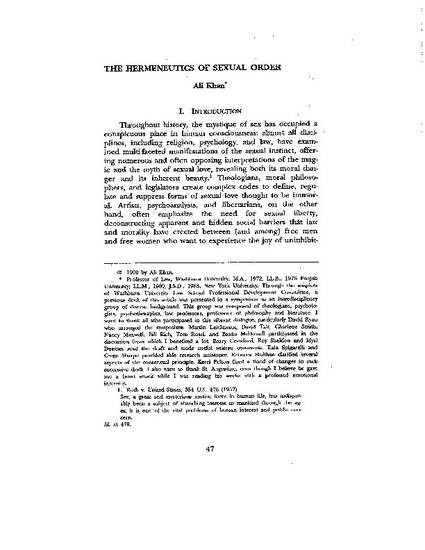 Article
The Hermeneutics of Sexual Order
Santa Clara Law Review (1990)
Abstract
The hermeneutics of sexual order explores sacred Christian texts and the US Constitution to explore permissive and prohibitive sexuality. The article argues that religious neurosis dictates prohibitive norms against certain expressions of human sexuality whereas consensualism defines free sexuality. The American attitudes toward human sexuality are determined through the combined forces of religious neurosis and consensual freedom. It appears that American sexuality is moving away from religious neurosis and embracing free sexuality, breaking away from traditional norms. (The author has repudiated some of the views expressed in this article; however, the article's descriptive portions are still valid).
Keywords
bible,
religion,
sexual love,
subjugation of women,
Freud,
constitutional law,
St. Augustine
Citation Information
Ali Khan. "The Hermeneutics of Sexual Order"
Santa Clara Law Review
Vol. 31 Iss. 1 (1990)
Available at: http://works.bepress.com/abu_kashif/53/