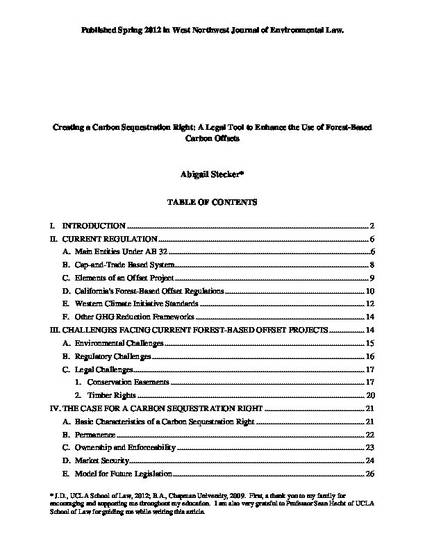 Article
Creating a Carbon Sequestration Right: A Legal Tool to Enhance the Use of Forest-Based Carbon Offsets
West Northwest Journal of Environmental Law (2012)
Abstract
A carbon sequestration right would support the use of forest-based offsets to facilitate the satisfaction of AB 32's emission reduction standards. Under AB 32, California will enter into a cap-and-trade market with other states and Canadian provinces through the Western Climate Initiative. The WCI market will include only forest-based offsets that are verifiable, real, additional, and permanent. Firms participating in the market will be more willing to purchase these offsets when they are assured that a secure legal tool supports the underlying carbon sequestration and storage.
A conscientiously drafted and implemented carbon sequestration right will provide adequate legal support for forest-based offset projects. The right must be based in real property, specifically apply to both carbon sequestration and storage, last for 100 years, and clarify who owns present and future carbon reserves. A carbon sequestration easement will satisfy these requirements. The scope of this right is limited to offset projects located within California's jurisdiction. Within a cap-and-trade market, an insurance system can help incorporate offset projects located in other jurisdictions. Under this system, risk-based insurance contributions will be lower for offset projects supported by a carbon sequestration right when compared to an equivalent project not supported by such a right. In addition to these suggestions, there is still much to be determined regarding the form and application of a carbon sequestration right; however, it is clear that such a right would be beneficial.
Keywords
environment,
carbon,
climate change,
global warming,
California,
AB32,
easement,
carbon easement,
forest based offsets,
forests,
offsets,
carbon offsets,
indian law,
jurisdiction,
Western Climate Initiative,
carbon sequestration,
environmental rights
Publication Date
Spring 2012
Citation Information
Abigail Stecker. "Creating a Carbon Sequestration Right: A Legal Tool to Enhance the Use of Forest-Based Carbon Offsets"
West Northwest Journal of Environmental Law
(2012)
Available at: http://works.bepress.com/abigail_stecker/1/