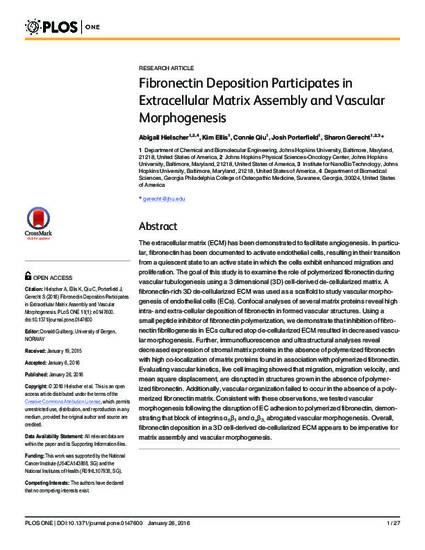 Article
Fibronectin Deposition Participates in Extracellular Matrix Assembly and Vascular Morphogenesis
PLoS ONE
Publication Date
1-1-2016
Abstract
The extracellular matrix (ECM) has been demonstrated to facilitate angiogenesis. In particular, fibronectin has been documented to activate endothelial cells, resulting in their transition from a quiescent state to an active state in which the cells exhibit enhanced migration and proliferation. The goal of this study is to examine the role of polymerized fibronectin during vascular tubulogenesis using a 3 dimensional (3D) cell-derived de-cellularized matrix. A fibronectin-rich 3D de-cellularized ECM was used as a scaffold to study vascular morphogenesis of endothelial cells (ECs). Confocal analyses of several matrix proteins reveal high intra- and extra-cellular deposition of fibronectin in formed vascular structures. Using a small peptide inhibitor of fibronectin polymerization, we demonstrate that inhibition of fibronectin fibrillogenesis in ECs cultured atop de-cellularized ECM resulted in decreased vascular morphogenesis. Further, immunofluorescence and ultrastructural analyses reveal decreased expression of stromal matrix proteins in the absence of polymerized fibronectin with high co-localization of matrix proteins found in association with polymerized fibronectin. Evaluating vascular kinetics, live cell imaging showed that migration, migration velocity, and mean square displacement, are disrupted in structures grown in the absence of polymerized fibronectin. Additionally, vascular organization failed to occur in the absence of a polymerized fibronectin matrix. Consistent with these observations, we tested vascular morphogenesis following the disruption of EC adhesion to polymerized fibronectin, demonstrating that block of integrins α5ß1 and αvß3, abrogated vascular morphogenesis. Overall, fibronectin deposition in a 3D cell-derived de-cellularized ECM appears to be imperative for matrix assembly and vascular morphogenesis.
Citation Information
Abigail Hielscher, Kim Ellis, Connie Qiu, Josh Porterfield, et al.. "Fibronectin Deposition Participates in Extracellular Matrix Assembly and Vascular Morphogenesis"
PLoS ONE
Vol. 11 Iss. 1 (2016) p. e0147600
Available at: http://works.bepress.com/abigail_hielscher/13/