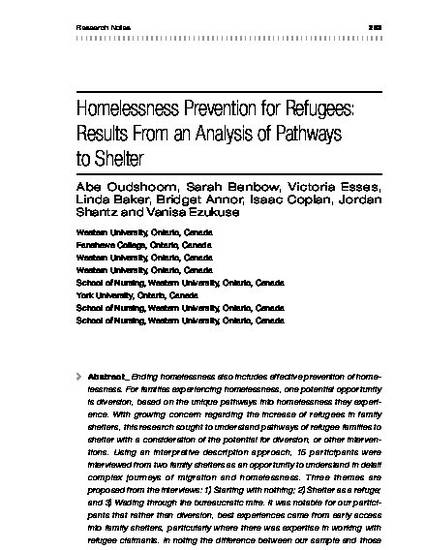 Article
Homelessness prevention for refugees: Results from an analysis of pathways to shelter
European Journal on Homelessness
Publication Date
1-1-2020
Abstract
Ending homelessness also includes effective prevention of homelessness. For families experiencing homelessness, one potential opportunity is diversion, based on the unique pathways into homelessness they experience. With growing concern regarding the increase of refugees in family shelters, this research sought to understand pathways of refugee families to shelter with a consideration of the potential for diversion, or other interventions. Using an interpretive description approach, 15 participants were interviewed from two family shelters as an opportunity to understand in detail complex journeys of migration and homelessness. Three themes are proposed from the interviews: 1) Starting with nothing; 2) Shelter as a refuge; and 3) Wading through the bureaucratic mire. It was notable for our participants that rather than diversion, best experiences came from early access into family shelters, particularly where there was expertise in working with refugee claimants. In noting the difference between our sample and those families experiencing homelessness who have citizenship, diversion does not appear to be as promising a practice for this sub-population. Rather, we recommend building knowledge of the refugee claimant process and resources within the homeless serving system and allowing family shelters to be a site of intervention.
Citation Information
Abe Oudshoorn, Sarah Benbow, Victoria Esses, Linda Baker, et al.. "Homelessness prevention for refugees: Results from an analysis of pathways to shelter"
European Journal on Homelessness
Vol. 14 Iss. 2 (2020) p. 189 - 205
Available at: http://works.bepress.com/abe-oudshoorn/2/