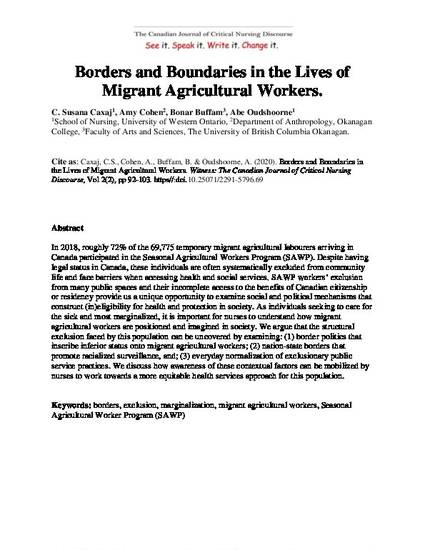 Article
Borders and boundaries in the lives of migrant agricultural workers
Witness: The Canadian Journal of Critical Nursing Discourse,
Publication Date
12-30-2020
URL with Digital Object Identifier
https://doi.org/10.25071/2291-5796.69
Abstract
In 2018, roughly 72%of the 69,775 temporary migrant agricultural labourers arriving in Canada participated in the Seasonal Agricultural Workers Program (SAWP). Despite having legal status in Canada, these individuals are often systematically excluded from community life and face barriers when accessing health and social services. SAWP workers' exclusion from many public spaces and their incomplete access to the benefits of Canadian citizenship or residency provide us a unique opportunity to examine social and political mechanisms that construct(in)eligibility for health and protection in society.As individuals seeking to care for the sick and most marginalized, it is important for nurses to understand how migrant agricultural workers are positioned and imagined in society. We argue that the structural exclusion faced by this population can be uncovered by examining:(1)border politics that inscribe inferior status onto migrant agricultural workers;(2) nation-state borders that promote racialized surveillance, and;(3) everyday normalization of exclusionary public service practices. We discuss how awareness of these contextual factors can be mobilized by nurses to work towards a more equitable health services approach for this population.
Creative Commons License
Creative Commons Attribution-Noncommercial 4.0
Citation Information
Caxaj, C.S., Cohen, A., Buffam, B. & Oudshoorne, A.(2020). Borders and Boundaries in the Lives of Migrant Agricultural Workers. Witness: The Canadian Journal of Critical Nursing Discourse,Vol 2(2), pp 92-103. https//:doi.10.25071/2291-5796.69