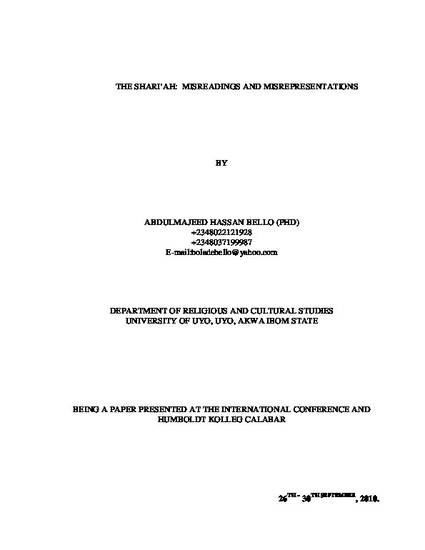 Article
The Shari'ah: Misreadings and Misinterpretations
The Parnassurs, University of Uyo (2009)
Abstract
Almost the whole of the present Northern Nigeria was firmly entrenched in the Sokoto Caliphate and Shari'ah in its totality was the applicable law in all courts. Through hundred of years of application, the Shari'ah supplanted the customary rules of part of Nigeria. The paper argues that if Shari'ah is a body of laws which Allah prescribed for His servants and explained by Muhammad, the Shari'ah is the life of Islam itself. And under democratic constitution, Shari'ah is both human and religious right of Muslim in the society. Paper shows that the Shari'ah govern the entire life of all Muslims, it is regarded as the embodiment of the will of Allah. Thus all Muslim wherever they are must have the same way of life. The Nigeria constitution gives the citizens to tailor their life according to their believes, therefore Muslims could implement the Zakat social security system to address the debilitating and humanizing social economic problem of the times without government intervention. Though Islam is a balance system of values, swaying neither to one extreme nor the other, unfortunately in some Muslim dominated areas, those teachings have been misinterpreted or been exploited for political purpose. The paper concludes that Shari'ah is not just an ordinary native law and custom, but a complete legal system which can be developed along with customary laws to produce a common and acceptable law for Nigeria. With this we can help the nation to contribute it own quota to world place.
Keywords
Jihad,
Qur'an,
Shari'ah,
and Sunnah
Citation Information
abdulmajeed bolade bello. "The Shari'ah: Misreadings and Misinterpretations"
The Parnassurs, University of Uyo
Vol. 5, 2009 (2009)
Available at: http://works.bepress.com/abdulmajeed_bello/3/