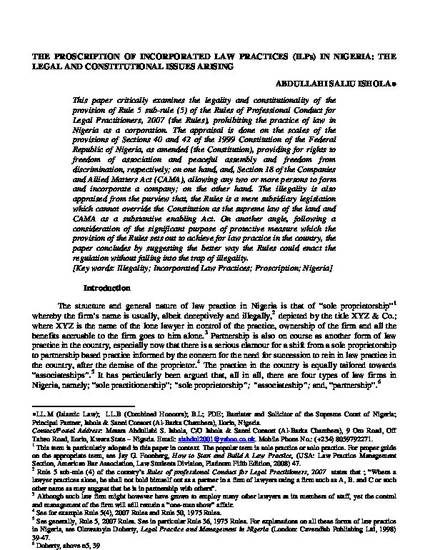 Article
The Proscription of Incorporated Law Practices (ILPs) in Nigeria: The Legal and Constitutional Issues Arising
Chotanagpur Law Journal (2012)
Abstract
This paper critically examines the legality and constitutionality of the provision of Rule 5 sub-rule (5) of the Rules of Professional Conduct for Legal Practitioners, 2007 (the Rules), prohibiting the practice of law in Nigeria as a corporation. The appraisal is done on the scales of the provisions of Sections 40 and 42 of the 1999 Constitution of the Federal Republic of Nigeria, as amended (the Constitution), providing for rights to freedom of association and peaceful assembly and freedom from discrimination, respectively; on one hand, and, Section 18 of the Companies and Allied Matters Act (CAMA), allowing any two or more persons to form and incorporate a company; on the other hand. The illegality is also appraised from the purview that, the Rules is a mere subsidiary legislation which cannot override the Constitution as the supreme law of the land and CAMA as a substantive enabling Act. On another angle, following a consideration of the significant purpose of protective measure which the provision of the Rules sets out to achieve for law practice in the country, the paper concludes by suggesting the better way the Rules could enact the regulation without falling into the trap of illegality.
Keywords
Illegality,
Incorporated Law Practices,
Proscription,
Nigeria
Publication Date
June, 2012
Citation Information
Abdullahi Saliu Ishola. "The Proscription of Incorporated Law Practices (ILPs) in Nigeria: The Legal and Constitutional Issues Arising"
Chotanagpur Law Journal
Vol. Vol - 4 Iss. No - 4 (2012)
Available at: http://works.bepress.com/abdullahi_ishola/2/