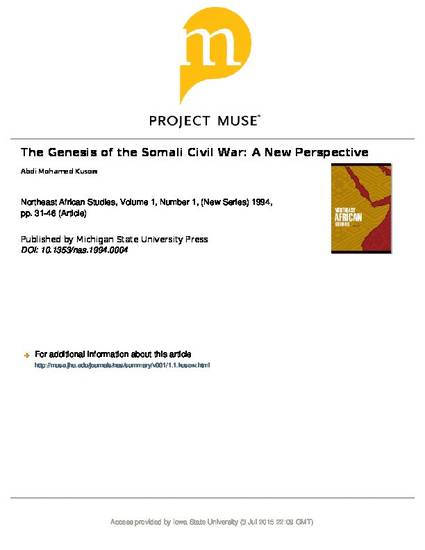 Article
The Genesis of the Somali Civil War: A New Perspective
Northeast African Studies (1994)
Abstract
Scholarship in Somali studies, especially that which addresses the origin and culture of the people, has accepted the homogeneity of the society without any extensive investigation of the cultural intricacies of the country.Thus historians, anthropologists, and successive Somali governments alike have failed to recognize the cultural, socioeconomic, and the ecological differences among the people. Rather, they tend to concentrate more on how the country was divided and certain regions were incorporated within Ethiopia and Kenya by the colonial powers. A large part of Somali political literature also concentrate on how these colonial divisions affect the country's relations with Ethiopia and Kenya.
DOI
10.1353/nas.1994.0004
Citation Information
Abdi Mohamed Kusow. "The Genesis of the Somali Civil War: A New Perspective"
Northeast African Studies
Vol. 1 Iss. 1 (1994) p. 31 - 46 ISSN: 0740-9133
Available at: http://works.bepress.com/abdi_kusow/5/