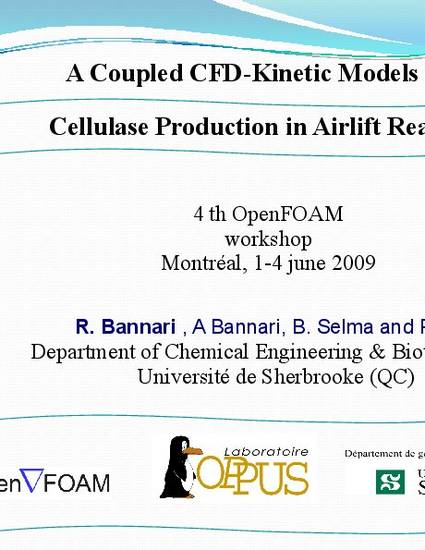 Presentation
A Coupled CFD-Kinetic Models for Cellulase Production in Airlift Reactor
4th OpenFOAM workshop. Montreal (2009)
Abstract
Cellulase production provides a catalyst for cellulose hydrolysis to glucose, to be used for eventual production of ethanol. The transport of reactants may influence the reaction rate remarkably, for the biological reaction, especially the enzymatic reaction, The transport behavior of the components in a biological system should be considered in the model. In this work, we propose a coupled model between hydrodynamics (twoPhaseEuler- Foam) and a kinetic model for batch and fed-batch cellulase enzyme production by T. reesei from cellulose/lactose substrate which is constructed from literature concepts and laboratory data. Good agreement is obtained between the results and experimental data.
Publication Date
April, 2009
Citation Information
Rachid Bannari, Abdelfettah Bannari, Brahim Selma and Pierre Proulx. "A Coupled CFD-Kinetic Models for Cellulase Production in Airlift Reactor"
4th OpenFOAM workshop. Montreal
(2009)
Available at: http://works.bepress.com/abdel_bannari/19/