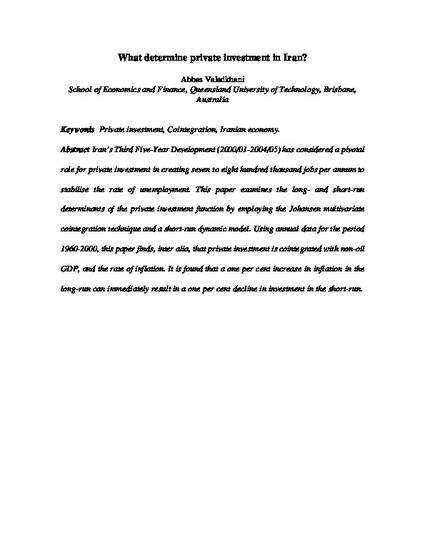 Article
What determine private investment in Iran?
Faculty of Commerce - Papers (Archive)
Publication Date
3-3-2004
Abstract
Iran's Third Five-Year Development (2000/01-2004/05) has considered a pivotal role for private investment in creating seven to eight hundred thousand jobs per annum to stabilise the rate of unemployment. This paper examines the long- and short-run determinants of the private investment function by employing the Johansen multivariate cointegration technique and a short-run dynamic model. Using annual data for the period 1960-2000, this paper finds, inter alia, that private investment is cointegrated with non-oil GDP, and the rate of inflation. It is found that a one per cent increase in inflation in the long-run can immediately result in a one per cent decline in investment in the short-run.
Citation Information
Abbas Valadkhani. "What determine private investment in Iran?" (2004)
Available at: http://works.bepress.com/abbas/19/