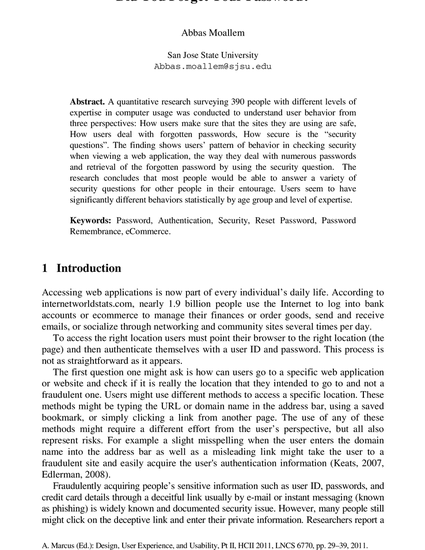 Contribution to Book
Did You Forget Your Password?
Design, User Experience, and Usability. Theory, Methods, Tools and Practice (2011)
Abstract
A quantitative research surveying 390 people with different levels of expertise in computer usage was conducted to understand user behavior from three perspectives: How users make sure that the sites they are using are safe, How users deal with forgotten passwords, How secure is the "security questions". The finding shows users' pattern of behavior in checking security when viewing a web application, the way they deal with numerous passwords and retrieval of the forgotten password by using the security question. The research concludes that most people would be able to answer a variety of security questions for other people in their entourage. Users seem to have significantly different behaviors statistically by age group and level of expertise.
Keywords
Password,
Authentication,
Security,
Reset Password,
Password Remembrance,
eCommerce
Publisher
Springer Berlin Heidelberg
DOI
10.1007/978-3-642-21708-1_4
Citation Information
Abbas Moallem. "Did You Forget Your Password?"
Design, User Experience, and Usability. Theory, Methods, Tools and Practice
Vol. 6770 (2011) p. 29 - 39
Available at: http://works.bepress.com/abbas-moallem/5/