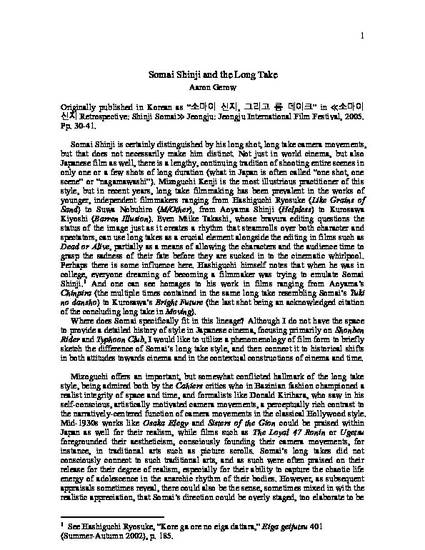 Contribution to Book
Somai Shinji and the Long Take / 소마이 신지, 그리고 롱 데이크
소마이 신지 Retrospective: Shinji Somai (2005)
Abstract
This piece was written for a Somai Shinji retrospective at the 2005 Jeongju Film Festival and originally published in Korean (the Korean version is included). It attempts to understand Somai's cinema through a phenomenological analysis of his film form. Contrasting his long takes both to those of Mizoguchi Kenji and of recent filmmakers such as Hashiguchi Ryosuke and Aoyama Shinji, I argue that Somai's aesthetics explore the tensions between the frame and off-screen space, between conscious staging and unbridled pre-lingual adolescent drives, between the concrete and the mythic, and ultimately between life and death.
Keywords
Somai Shinji,
long take,
adolescence,
death,
myth
Publisher
Jeongju International Film Festival
Citation Information
Aaron Gerow. "Somai Shinji and the Long Take / 소마이 신지, 그리고 롱 데이크"
소마이 신지 Retrospective: Shinji Somai
(2005) p. 30 - 41
Available at: http://works.bepress.com/aarongerow/56/