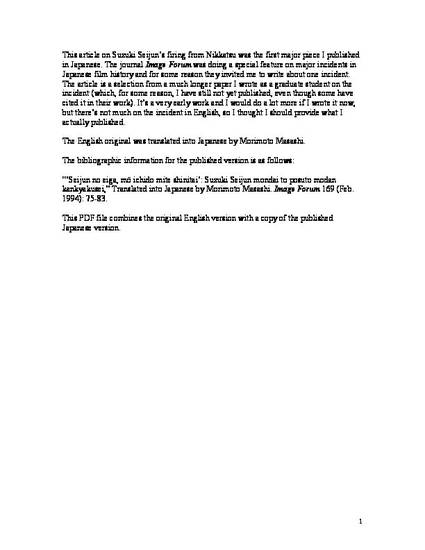 Article
"I want to see Seijun's films once more before I die"—The Suzuki Seijun Incident and Postmodern Spectatorship / 「清順の映画、もう一度見て死にたい」——鈴木清順問題とポスト・モダン観客性
Image Forum (1994)
Abstract
The Japanese film director Suzuki Seijun was fired from the Nikkatsu studio in 1968 for making "incomprehensible" films. When the studio also declared it would no longer rent out his films, a protest movement emerged among film critics and fans. This paper analyses the form of spectatorship the protest movement proposed, one that aligns with postmodern modes of readership by declaring the rights of the viewer to create and possess the film. An elitist stance towards cinematicity, however, exposed the contradictions in the protests, and presaged the changes in film criticism from 1970 on.
Keywords
Japanese cinema,
postmodernism,
film criticism,
spectatorship,
Seijun Suzuki,
Nikkatsu
Publication Date
February, 1994
Citation Information
Aaron Gerow. ""I want to see Seijun's films once more before I die"—The Suzuki Seijun Incident and Postmodern Spectatorship / 「清順の映画、もう一度見て死にたい」——鈴木清順問題とポスト・モダン観客性"
Image Forum
Iss. 169 (1994) p. 75 - 83
Available at: http://works.bepress.com/aarongerow/10/