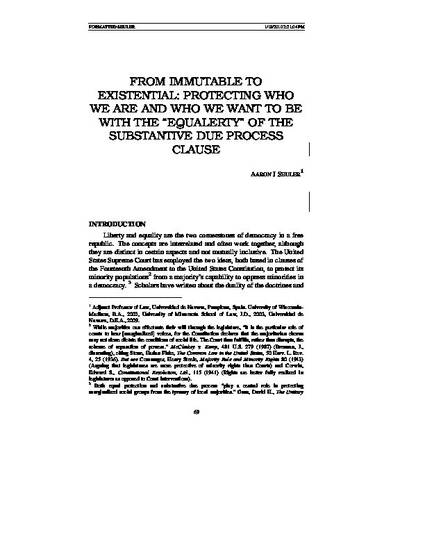 Article
From Immutable to Existential: Protecting Who We Are and Who We Want to Be with the 'Equalerty' of the Substantive Due Process Clause
University of San Francisco Journal of Law and Social Challenges (2010)
Abstract
Abstract Scholars have written about the duality of the substantive due process and equal protection doctrines and described how they have worked in tandem, although many academics have focused on, or outright called for, a preference for the use of the equal protection clause. Another contingent of the academic community, however, has discussed the favored use of substantive due process in the last fifty years in providing equal treatment for all groups by ferreting out discrimination against marginalized minorities. Scholars have also separately alluded to substantive due process' ability to protect the most existential of liberties. This works seeks to combine the two observations and further illuminate substantive due process' use in both equality and liberty matters under an "equalerty" approach. It will trace its use from its modern roots to protect personal rights for minorities up to the present as a doctrinal basis that has shown to be superior to equal protection. It will attempt to demonstrate that the clause has worked to ensure equal treatment for what we already are: black, woman, gay, and to preserve the liberty to define who we want to be: mother, wife, Catholic.
Part I will briefly discuss the origins and foundations for the idea that citizens enjoy certain rights that cannot be infringed upon by the government. It will review the struggle to define those rights and the difficulty in mooring them to a textual basis in the Constitution, concluding by arguing that the substantive due process clause has emerged as the most effective doctrine in protecting liberty and equality. Part II will trace the development of the substantive due process clause from pre-New Deal economic liberty matters to its beginnings in protecting personal liberty and equality, specifically with respect to Catholics in the 1920's. It will attempt to demonstrate that liberty and equality have been wedded in substantive due process going all the way back to the doctrine's initial demise. Part III will survey and analyze the major cases in the second half of the twentieth century resuscitating substantive due process while contracting equal protection. It will conclude by trying to illustrate and emphasize how an ambiguous and historically troubled doctrine once thought to have been repudiated to the point of being constitutionally illegitimate came to provide liberty and equality for the most vulnerable in life's most intimate and profound matters, highlighting its use in the cases of women and blacks in the 1960's and 70's, and concluding with homosexuals in the present decade.
Keywords
liberty,
equality,
substantive due process,
equal protection,
fourteenth amendment,
constitution
Publication Date
March, 2010
Citation Information
Shuler, Aaron J, "From Immutable to Existential: Protecting Who We Are and Who We Want to Be with the "Equalerty" of the Substantive Due Process Clause," 12 J.L.S.C. 220 (Spring 2010).