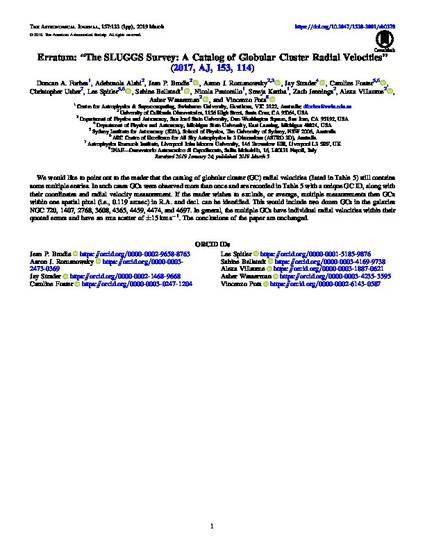 Article
Erratum: "The SLUGGS Survey: A Catalog of Globular Cluster Radial Velocities" (2017, AJ, 153, 114)
The Astronomical Journal (2019)
Abstract
We would like to point out to the reader that the catalog of globular cluster (GC) radial velocities (listed in Table 5) still contains some multiple entries. In such cases GCs were observed more than once and are recorded in Table 5 with a unique GC ID, along with their coordinates and radial velocity measurement. If the reader wishes to exclude, or average, multiple measurements then GCs within one spatial pixel (i.e., 0.119 arcsec) in R.A. and decl. can be identified. This would include two dozen GCs in the galaxies NGC 720, 1407, 2768, 3608, 4365, 4459, 4474, and 4697. In general, the multiple GCs have individual radial velocities within their quoted errors and have an rms scatter of ±15 km s−1. The conclusions of the paper are unchanged.
Publication Date
March, 2019
DOI
10.3847/1538-3881/ab0378
Citation Information
Duncan A. Forbes, Adebusola Alabi, Jean P. Brodie, Aaron J. Romanowsky, et al.. "Erratum: "The SLUGGS Survey: A Catalog of Globular Cluster Radial Velocities" (2017, AJ, 153, 114)"
The Astronomical Journal
Vol. 157 Iss. 3 (2019) ISSN: 0004-6256
Available at: http://works.bepress.com/aaron_romanowsky/156/