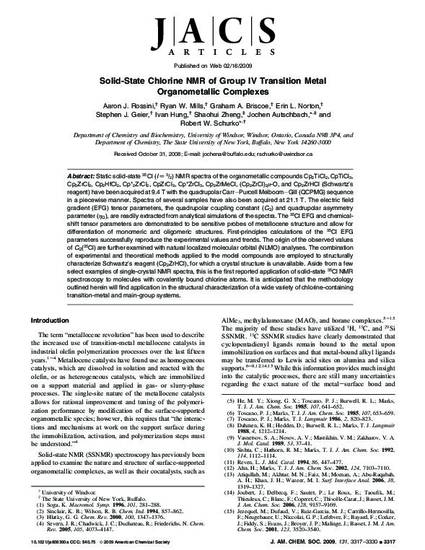 Article
Solid-State Chlorine NMR of Group IV Transition Metal Organometallic Complexes
Journal of American Chemical Society (2009)
Abstract
Static solid-state 
35
Cl (
I
 = 
3
/
2
) NMR spectra of the organometallic compounds Cp
2
TiCl
2
, CpTiCl
3
, Cp
2
ZrCl
2
, Cp
2
HfCl
2
, Cp*
2
ZrCl
2
, CpZrCl
3
, Cp*ZrCl
3
, Cp
2
ZrMeCl, (Cp
2
ZrCl)
2
μ-O, and Cp
2
ZrHCl (Schwartz's reagent) have been acquired at 9.4 T with the quadrupolar Carr−Purcell Meiboom−Gill (QCPMG) sequence in a piecewise manner. Spectra of several samples have also been acquired at 21.1 T. The electric field gradient (EFG) tensor parameters, the quadrupolar coupling constant (
C
Q
) and quadrupolar asymmetry parameter (η
Q
), are readily extracted from analytical simulations of the spectra. The 
35
Cl EFG and chemical-shift tensor parameters are demonstrated to be sensitive probes of metallocene structure and allow for differentiation of monomeric and oligomeric structures. First-principles calculations of the 
35
Cl EFG parameters successfully reproduce the experimental values and trends. The origin of the observed values of
C
Q
(
35
Cl) are further examined with natural localized molecular orbital (NLMO) analyses. The combination of experimental and theoretical methods applied to the model compounds are employed to structurally characterize Schwartz's reagent (Cp
2
ZrHCl), for which a crystal structure is unavailable. Aside from a few select examples of single-crystal NMR spectra, this is the first reported application of solid-state 
35
Cl NMR spectroscopy to molecules with covalently bound chlorine atoms. It is anticipated that the methodology outlined herein will find application in the structural characterization of a wide variety of chlorine-containing transition-metal and main-group systems.
Publication Date
February 16, 2009
Citation Information
Aaron J. Rossini, Ryan W. Mills, Graham A. Briscoe, Erin L. Norton, et al.. "Solid-State Chlorine NMR of Group IV Transition Metal Organometallic Complexes"
Journal of American Chemical Society
Vol. 131 Iss. 9 (2009) p. 3317 - 3330
Available at: http://works.bepress.com/aaron-rossini/24/