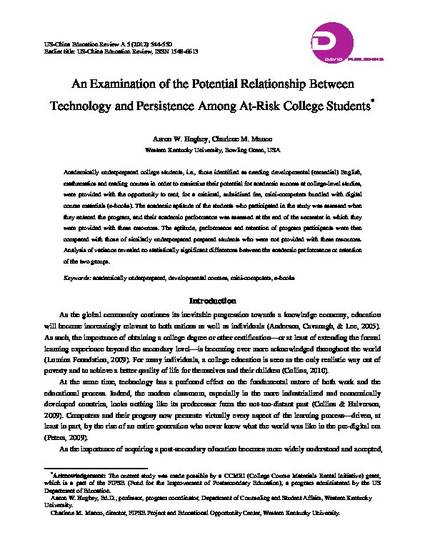 Article
An Examination of the Potential Relationship Between Technology and Persistence Among At-Risk College Students
US-China Education Review, A
Publication Date
5-1-2012
Abstract
Academically underprepared college students, i.e., those identified as needing developmental (remedial) English, mathematics and reading courses in order to maximize their potential for academic success at college-level studies, were provided with the opportunity to rent, for a minimal, subsidized fee, mini-computers bundled with digital course materials (e-books). The academic aptitude of the students who participated in the study was assessed when they entered the program, and their academic performance was assessed at the end of the semester in which they were provided with these resources. The aptitude, performance and retention of program participants were then compared with those of similarly underprepared prepared students who were not provided with these resources. Analysis of variance revealed no statistically significant differences between the academic performance or retention of the two groups.
Citation Information
Aaron W Hughey and Charlene Manco. "An Examination of the Potential Relationship Between Technology and Persistence Among At-Risk College Students"
US-China Education Review, A
Vol. 2 Iss. 5 (2012) p. 544 - 550
Available at: http://works.bepress.com/aaron-hughey/3/