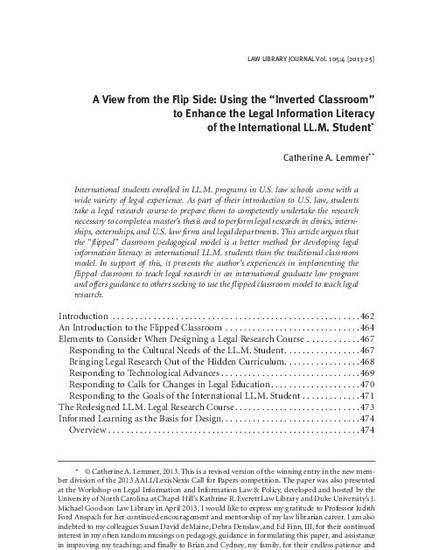 Article
A View from the Flip Side: Using the "Inverted Classroom" to Enhance the Legal Information Literacy of the International LL.M. Student
Law Library Journal (2013)
Abstract
International students enrolled in LL.M. programs in U.S. law schools come with a wide variety of legal experience. As part of their introduction to U.S. law, students take a legal research course to prepare them to competently undertake the research necessary to complete a master's thesis and to perform legal research in clinics, internships, externships, and U.S. law firms and legal departments. This article argues that the "flipped" classroom pedagogical model is a better method for developing legal information literacy in international LL.M. students than the traditional classroom model. In support of this, it presents the author's experiences in implementing the flipped classroom to teach legal research in an international graduate law program and offers guidance to others seeking to use the flipped classroom model to teach legal research.
Keywords
instruction,
legal research,
international students
Publication Date
Fall 2013
Citation Information
Catherine A. Lemmer. "A View from the Flip Side: Using the "Inverted Classroom" to Enhance the Legal Information Literacy of the International LL.M. Student"
Law Library Journal
Vol. 105 Iss. 4 (2013)
Available at: http://works.bepress.com/aallcallforpapers/78/