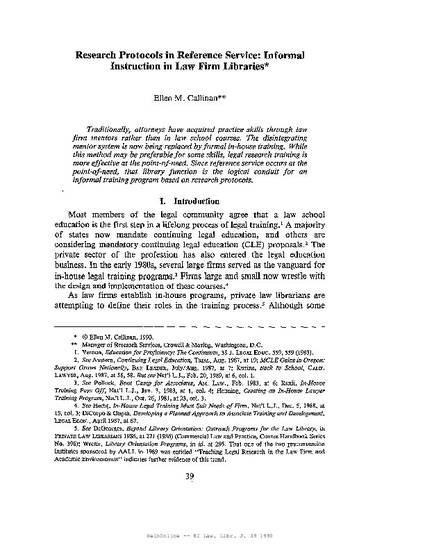 Article
Research Protocols in Reference Service: Informal Instruction in Law Firm Libraries
Law Library Journal (1990)
Abstract
Traditionally, attorneys have acquired practice skills through law firm mentors rather than in law school courses. The disintegrating mentor system is now being replaced by formal in-house training. While this method may be preferable for some skills, legal research training is more effective at the point-of-need. Since reference service occurs at the point-of-need, that library function is the logical conduit for an informal training program based on research protocols.
Publication Date
Winter 1990
Citation Information
Ellen M. Callinan. "Research Protocols in Reference Service: Informal Instruction in Law Firm Libraries"
Law Library Journal
Vol. 82 Iss. 1 (1990)
Available at: http://works.bepress.com/aallcallforpapers/55/