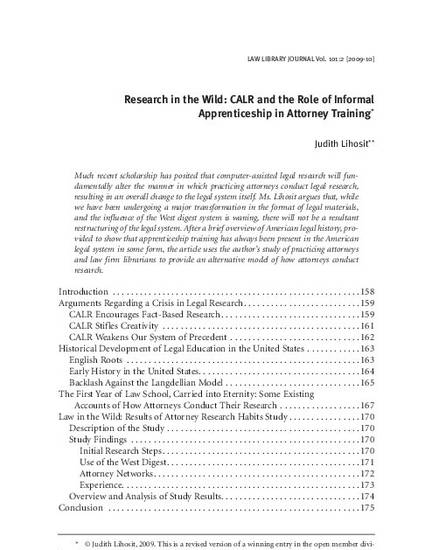 Article
Research in the Wild: CALR and the Role of Informal Apprenticeship in Attorney Training
Law Library Journal (2008)
Abstract
Much recent scholarship has posited that computer-assisted legal research will fundamentally alter the manner in which practicing attorneys conduct legal research, resulting in an overall change to the legal system itself. Ms. Lihosit argues that, while we have been undergoing a major transformation in the format of legal materials, and the influence of the West digest system is waning, there will not be a resultant restructuring of the legal system. After a brief overview of American legal history, provided to show that apprenticeship training has always been present in the American legal system in some form, the article uses the author's study of practicing attorneys and law firm librarians to provide an alternative model of how attorneys conduct research.
Publication Date
Spring 2008
Citation Information
Judith Lihosit. "Research in the Wild: CALR and the Role of Informal Apprenticeship in Attorney Training"
Law Library Journal
Vol. 101 Iss. 2 (2008)
Available at: http://works.bepress.com/aallcallforpapers/1/