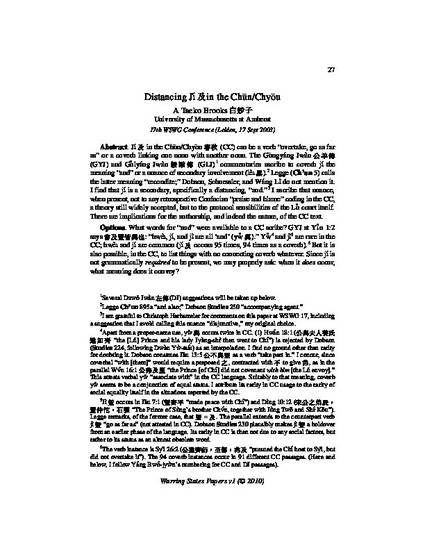 Article
Distancing Ji in the Chun/chyou
Warring States Papers (2010)
Abstract
Ji in the Chun/Chyou (CC) can be a verb "overtake, go as far as" or a coverb linking one noun with another noun. The Gungyang Jwan (GYJ) and Gulyang Jwan (GLJ)1 commentaries ascribe to coverb ji the meaning "and" or a nuance of secondary involvement (lei).2 Legge (Ch'un 5) calls the latter meaning "recondite;" Dobson, Schuessler, and Wang Li do not mention it. I find that ji is a secondary, specifically a distancing, "and."3 I ascribe that nuance, when present, not to any retrospective Confucian "praise and blame" coding in the CC, a theory still widely accepted, but to the protocol sensibilities of the Lu court itself. There are implications for the authorship, and indeed the nature, of the CC text.
Citation Information
A. Taeko Brooks. "Distancing Ji in the Chun/chyou"
Warring States Papers
Vol. 1 (2010)
Available at: http://works.bepress.com/a_brooks/2/