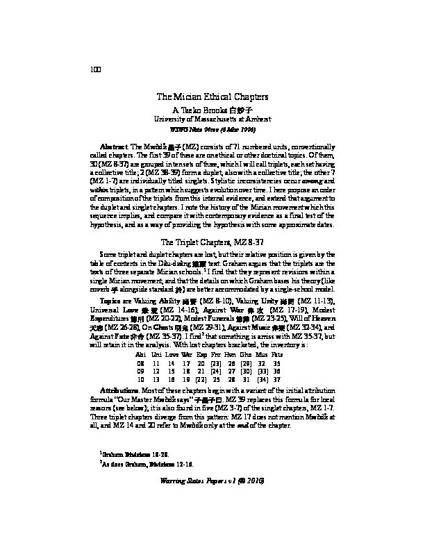 Article
The Mician Ethical Chapters
Warring States Papers (2010)
Abstract
The Mwo (MZ) consists of 71 numbered units, conventionally called chapters. The first 39 of these are on ethical or other doctrinal topics. Of them, 30 (MZ 8-37) are grouped in ten sets of three, which I will call triplets, each set having a collective title; 2 (MZ 38-39) form a duplet, also with a collective title; the other 7 (MZ 1-7) are individually titled singlets. Stylistic inconsistencies occur among and within triplets, in a pattern which suggests evolution over time. I here propose an order of composition of the triplets from this internal evidence, and extend that argument to the duplet and singlet chapters. I note the history of the Mician movement which this sequence implies, and compare it with contemporary evidence as a final test of the hypothesis, and as a way of providing the hypothesis with some approximate dates.
Citation Information
A. Taeko Brooks. "The Mician Ethical Chapters"
Warring States Papers
Vol. 1 (2010)
Available at: http://works.bepress.com/a_brooks/10/