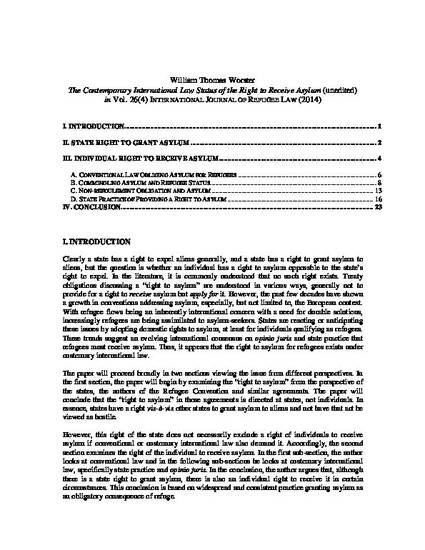 Article
Contemporary International Law Status of the Right to Receive Asylum (unedited)
nternational Journal of Refugee Law (2012)
Abstract
Clearly a state has a right to expel aliens generally, and a state has a right to grant asylum to aliens, but the question is whether an individual has a right to asylum opposable to the state's right to expel. In the literature, it is commonly understood that no such right exists. Treaty obligations discussing a "right to asylum" are understood in various ways, generally not to provide for a right to receive asylum but apply for it. However, the past few decades have shown a growth in conventions addressing asylum, especially, but not limited to, the European context. With refugee flows being an inherently international concern with a need for durable solutions, increasingly refugees are being assimilated to refugee-seekers. States are reacting or anticipating these issues by adopting domestic rights to asylum, at least for individuals qualifying as refugees. These trends suggest an evolving international consensus on opinio juris and state practice that refugees must receive asylum. Thus, it appears that the right to asylum for refugees exists under customary international law.
The paper will proceed broadly in two sections viewing the issue from different perspectives. In the first section, the paper will begin by examining the "right to asylum" from the perspective of the states, the authors of the Refugee Convention and similar agreements. The paper will conclude that the "right to asylum" in those agreements is directed at states, not individuals. In essence, states have a right vis-à-vis other states to grant asylum to aliens and not have that act be viewed as hostile.
However, this right of the state does not necessarily exclude a right of individuals to receive asylum if convention or customary international law also demand it. Accordingly, the second section examines the right of the individual to receive asylum. In the first sub-section, the author looks at conventional law and in the following sub-sections he looks at customary international law, specifically state practice and opinio juris. In the conclusion, the author argues that, although there is a state right to grant asylum, there is also an individual right to receive it in certain circumstances. This conclusion is based on widespread and consistent practice granting asylum as an obligatory consequence of refuge.
Keywords
asylum,
refugee,
right,
custom,
international
Publication Date
Spring March 17, 2012
Citation Information
William T. Worster. "Contemporary International Law Status of the Right to Receive Asylum (unedited)"
nternational Journal of Refugee Law
Vol. 26 Iss. 4 (2012) p. 1 - 23
Available at: http://works.bepress.com/William-Worster/5/