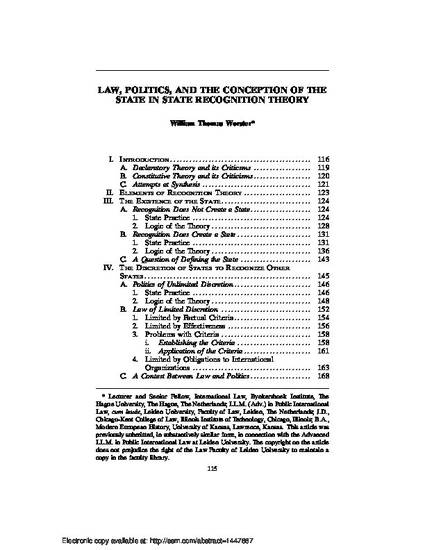 Article
Law, Politics, and the Conception of the State in State Recognition Theory
Boston University International Law Journal (2009)
Abstract
The competing theories of state recognition and their failings actively demonstrate that recognition of a state does not have any normative content per se, but rather, that the rules of state recognition, although legal rules, are legal vehicles for political choices. We have the dilemma of concurrently wanting the right cases to result in independent states while prohibiting the wrong ones from becoming so, and so we sail between political choices, using the language of law. The state is neither truly free to recognize another entity nor entirely bound. Differing cases require different legal criteria and different legal results. This flexibility in state recognition theory though, while depriving the act of any inherent legal meaning, has value in its utility for establishing lawful relationships.
This paper will argue that the reason we find it difficult to resolve the controversy over state recognition theory is because the international legal system translates political controversies into legal questions that can then be addressed through legal means. Legal actors, by announcing preference for one side of the question, often reveal certain legal and moral choices they are making about the nature of the state and the legitimacy of the international legal system - law and politics. In the area of state recognition, no theory of recognition has extinguished competition because no political choice has gained universal acceptance. The predominant political choice is most frequently deliberate indeterminacy, a co-existence of mutually opposing arguments. This indeterminacy is most likely deliberate because it permits the underlying rationale for the legal actor's policies to change and evolve to suit the situation.
Keywords
state,
statehood,
recognition,
constitutive,
declaratory,
law,
politics,
independent,
independence,
normative,
legal,
system,
Kosovo,
Yugoslavia,
Montenegro,
Abkhazia,
South Ossetia
Publication Date
Summer August 12, 2009
Citation Information
William T. Worster. "Law, Politics, and the Conception of the State in State Recognition Theory"
Boston University International Law Journal
Vol. 27 Iss. 1 (2009) p. 115 - 171
Available at: http://works.bepress.com/William-Worster/3/