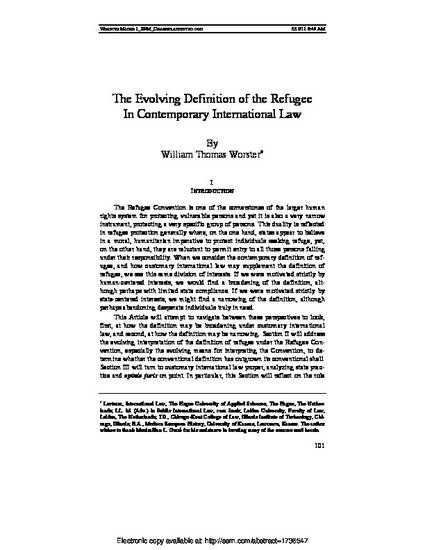 Article
The Evolving Definition of the Refugee in Contemporary International Law
Berkeley Journal of International Law (2011)
Abstract
Many scholars of international refugee law assert that there is no definition of refugee under international law except that given in the Refugee Convention. This assertion, however, overlooks the dynamic way that the Refugee Convention is interpreted and is usually made without a detailed analysis of customary international law. This article attempts to address this shortcoming in the literature by examining conventional and customary international law contributing to the contemporary definition of refugee. Furthermore, it will attempt to do this is an even-handed manner, concluding that the definition has expanded in favor of claimants in some aspects, but, actually, contracted against the favor of claimants in others.
First, the article will examine the definition of refugee under the Refugee Convention, especially the evolving technique for interpreting the Convention, to determine whether the definition has outgrown its conventional shell.
Second, the article will undertake a comprehensive analysis of state practice and opinio juris on this question, examining the most up-to-date sources. In particular, it will reflect on the role of specially interested or specially affected states in the formation of customary international law and the growth of "subsidiary" protection. Also the article will consider the contribution of the practice and opinio juris of international organizations in the frame of the contemporary international law's understanding of the contribution international organizations can make.
Lastly, the article will look at the opposite side of the coin: the ways in which customary international law may have narrowed the definition beyond the terms of the Refugee Convention.
It will conclude by proposing the new definition of a refugee under conventional and customary international law based on the findings.
Keywords
refugee,
refuge,
asylum,
aslyee,
custom,
customary international law,
convention,
subsidiary,
specially,
interested,
affected,
OAU,
Cartegna,
internal,
flight,
relocation,
safe,
third,
origin,
manifestly,
assurances UNHCR,
Bangkok
Publication Date
Winter January 11, 2011
Citation Information
William T. Worster. "The Evolving Definition of the Refugee in Contemporary International Law"
Berkeley Journal of International Law
Vol. 30 Iss. 1 (2011) p. 101 - 167
Available at: http://works.bepress.com/William-Worster/2/