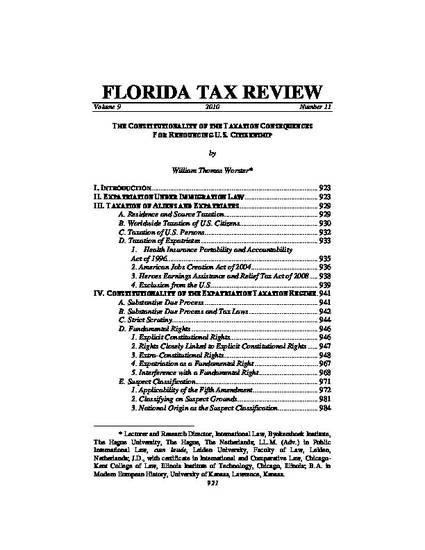 Article
The Constitutionality of the Taxation Consequences for Renouncing US Citizenship
Florida Tax Review (2010)
Abstract
Individuals that renounce their U.S. citizenship are held to a special taxation regime as a consequence for their expatriation that is unique in the world and, this article will argue, unconstitutional. Originally, renunciation of citizenship was seen as the ultimate income tax reduction device, but this option has now lost much of its attractiveness as Congress has passed "exit tax" provisions that impose a tax liability on individuals who have renounced U.S. citizenship similar to that imposed on U.S. citizens.
This article will argue that, as it currently stands, the exit tax is not constitutional because it is not narrowly tailored to achieve a compelling government interest and must be judged at that standard because it infringes on the fundamental right to expatriate and discriminates based on national origin.
Keywords
citizenship,
nationality,
tax,
taxation,
renunciation,
renounce,
expat,
expatriate,
expatriation,
constitution,
constitutionality,
unconstitutional,
fundmental,
right,
national,
original,
discrimination,
exit tax
Publication Date
Winter 2010
Citation Information
William T. Worster. "The Constitutionality of the Taxation Consequences for Renouncing US Citizenship"
Florida Tax Review
Vol. 9 Iss. 11 (2010) p. 921 - 1020
Available at: http://works.bepress.com/William-Worster/1/