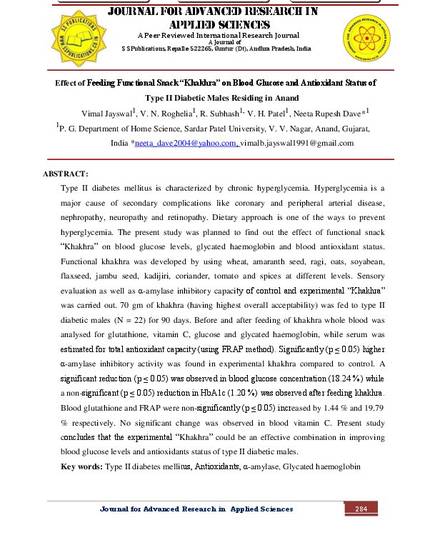 Article
Effect of Feeding Functional Snack "Khakhra" on Blood Glucose and Antioxidant Status of Type II Diabetic Males Residing in Anand
JOURNAL FOR ADVANCED RESEARCH IN APPLIED SCIENCES (2016)
Abstract
Type II diabetes mellitus is characterized by chronic hyperglycemia. Hyperglycemia is a major cause of secondary complications like coronary and peripheral arterial disease, nephropathy, neuropathy and retinopathy. Dietary approach is one of the ways to prevent hyperglycemia. The present study was planned to find out the effect of functional snack "Khakhra" on blood glucose levels, glycated haemoglobin and blood antioxidant status. Functional khakhra was developed by using wheat, amaranth seed, ragi, oats, soyabean, flaxseed, jambu seed, kadijiri, coriander, tomato and spices at different levels. Sensory evaluation as well as α-amylase inhibitory capacity of control and experimental "Khakhra" was carried out. 70 gm of khakhra (having highest overall acceptability) was fed to type II diabetic males (N = 22) for 90 days. Before and after feeding of khakhra whole blood was analysed for glutathione, vitamin C, glucose and glycated haemoglobin, while serum was estimated for total antioxidant capacity (using FRAP method). Significantly (p ≤ 0.05) higher α-amylase inhibitory activity was found in experimental khakhra compared to control. A significant reduction (p ≤ 0.05) was observed in blood glucose concentration (18.24 %) while a non-significant (p ≤ 0.05) reduction in HbA1c (1.20 %) was observed after feeding khakhra. Blood glutathione and FRAP were non-significantly (p ≤ 0.05) increased by 1.44 % and 19.79
% respectively. No significant change was observed in blood vitamin C. Present study concludes that the experimental "Khakhra" could be an effective combination in improving blood glucose levels and antioxidants status of type II diabetic males.
Keywords
Type II diabetes mellitus,
Antioxidants,
α-amylase,
Glycated haemoglobin
Publication Date
Winter January 30, 2016
Citation Information
VIMAL JAYSWAL. "Effect of Feeding Functional Snack "Khakhra" on Blood Glucose and Antioxidant Status of Type II Diabetic Males Residing in Anand"
JOURNAL FOR ADVANCED RESEARCH IN APPLIED SCIENCES
Vol. VOLUME 3 Iss. Special issue (2016) p. 284 - 294 ISSN: 2394-8442
Available at: http://works.bepress.com/Vimalbjayswal/1/