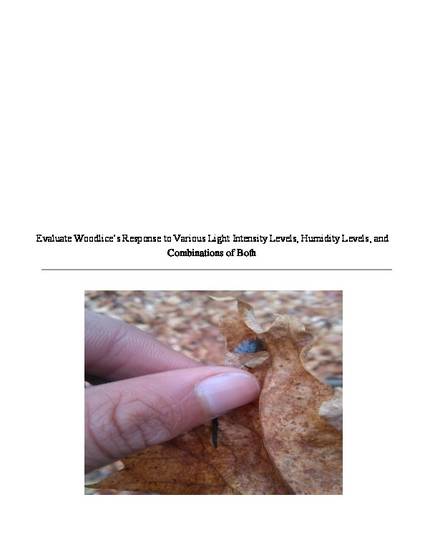 Other
Evaluation of Woodlice's Response to Various Light Intensity Levels, Humidity Levels, and Combinations of Both
(2017)
Abstract
This scientific experiment in the field of ethology is meant to prove the consciousness of animal species via a simple taxis design of reactions to varied light intensity levels and humidity levels. The type of animal experimented upon is the Oniscidea, commonly known to the world as Woodlice. By means of Chi-Squared statistical analysis, the ultimate goal is to mathematically prove that such reactions to various environmental changes are not random, but intentional on the part of the species of animal.
Keywords
Taxis,
Animal Experiment,
Woodlice,
Sowbugs,
Ethology,
Ethology Experiment,
Chi-Squared
Publication Date
Fall November 16, 2017
Citation Information
Shiven Sharma. "Evaluation of Woodlice's Response to Various Light Intensity Levels, Humidity Levels, and Combinations of Both" (2017)
Available at: http://works.bepress.com/ShivenSharma/1/
Creative Commons license
This work is licensed under a Creative Commons CC_BY International License.