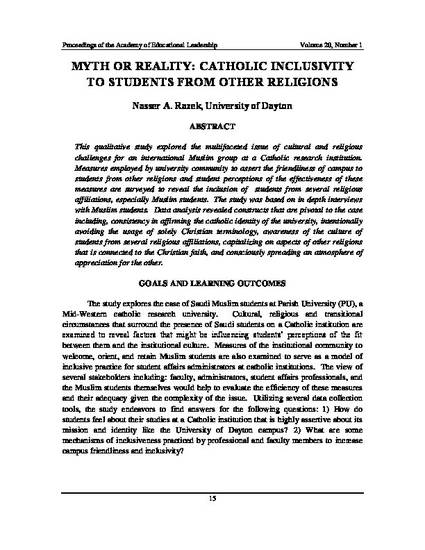 Article
Myth or Reality: Catholic Inclusivity to Students from Other Religions
Academy of Educational Leadership: 2015 Allied Academies International Conference
Document Type
Conference Paper
Publication Date
4-8-2015
Abstract
This qualitative study explored the multifaceted issue of cultural and religious challenges for an international Muslim group at a Catholic research institution. Measures employed by the university community to assert the friendliness of campus to students from other religions and student perceptions of the effectiveness of these measures are surveyed to reveal the inclusion of students from several religious affiliations, especially Muslim students. The study was based on in-depth interviews with Muslim students. Data analysis revealed constructs that are pivotal to the case including consistency in affirming the Catholic identity of the university; intentionally avoiding the usage of solely Christian terminology; awareness of the culture of students from several religious affiliations; capitalizing on aspects of other religions connected to the Christian faith; and consciously spreading an atmosphere of appreciation for the other.
Document Version
Published Version
Copyright
Copyright © 2015 by the Author and the Academy of Educational Leadership
Publisher
Allied Academies
Keywords
Catholic Education,
International Students,
Muslim Students,
Inclusive,
Cultural Challenges
Citation Information
Nasser Razek. "Myth or Reality: Catholic Inclusivity to Students from Other Religions"
Academy of Educational Leadership: 2015 Allied Academies International Conference
Vol. 20 Iss. 1 (2015)
Available at: http://works.bepress.com/Nasser-Razek/13/