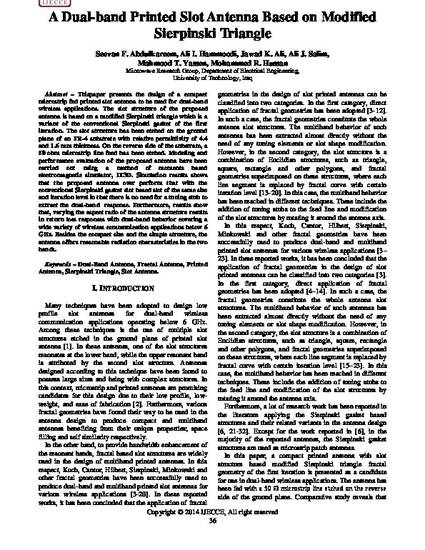 Article
A Dual-band Printed Slot Antenna Based on Modified Sierpinski Triangle
International Journal of Electronics Communication and Computer Engineering (2014)
Abstract
This paper presents the design of a compact microstrip fed printed slot antenna to be used for dual-band
wireless applications. The slot structure of the proposed antenna is based on a modified Sierpinski triangle which is a variant of the conventional Sierpinski gasket of the first iteration. The slot structure has been etched on the ground plane of an FR-4 substrate with relative permittivity of 4.4 and 1.6 mm thickness. On the reverse side of the substrate, a 50 ohm microstrip line feed has been etched. Modeling and performance evaluation of the proposed antenna have been carried out using a method of moments based electromagnetic simulator, IE3D. Simulation results shows that the proposed antenna over perform that with the conventional Sierpinski gasket slot based slot of the same size and iteration level in that there is no need for a tuning stub to extract the dual-band response. Furthermore, results show that, varying the aspect ratio of the antenna structure results
in return loss responses with dual-band behavior covering a wide variety of wireless communication applications below 6 GHz. Besides the compact size and the simple structure, the antenna offers reasonable radiation characteristics in the two bands.
Publication Date
January 1, 2014
Citation Information
Seevan F. Abdulkareem, Ali I. Hammoodi, Jawad K. Ali, Ali J Salim, et al.. "A Dual-band Printed Slot Antenna Based on Modified Sierpinski Triangle"
International Journal of Electronics Communication and Computer Engineering
Vol. 5 Iss. 1 (2014) p. 36 - 41
Available at: http://works.bepress.com/Mohammed-Hussan/3/