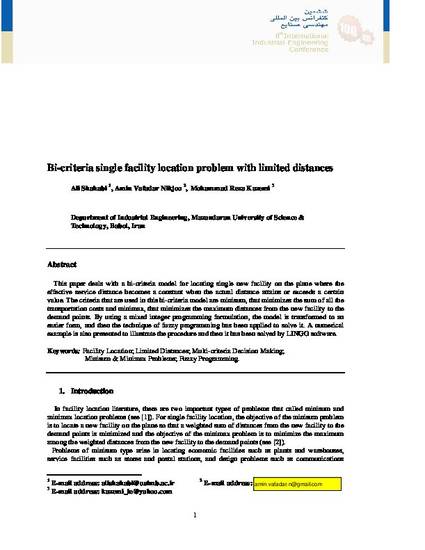 Presentation
Bi-criteria single facility location problem with limited distances
6th International Industrial Engineering Conference (IIEC) (2009)
Abstract
This paper deals with a bi-criteria model for locating single new facility on the plane where the effective service distance becomes a constant when the actual distance attains or exceeds a certain value. The criteria that are used in this bi-criteria model are minisum, that minimizes the sum of all the transportation costs and minimax, that minimizes the maximum distances from the new facility to the demand points. By using a mixed integer programming formulation, the model is transformed to an easier form, and then the technique of fuzzy programming has been applied to solve it. A numerical example is also presented to illustrate the procedure and then it has been solved by LINGO software.
Keywords
Facility location,
Multiple Criteria Decision Making,
Fuzzy programming
Publication Date
Winter February 18, 2009
Citation Information
Ali Shahabi, Amin Vafadar Nikjoo and Mohammad Reza Kazemi. "Bi-criteria single facility location problem with limited distances"
6th International Industrial Engineering Conference (IIEC)
(2009)
Available at: http://works.bepress.com/MohammadRezaKazemi/2/