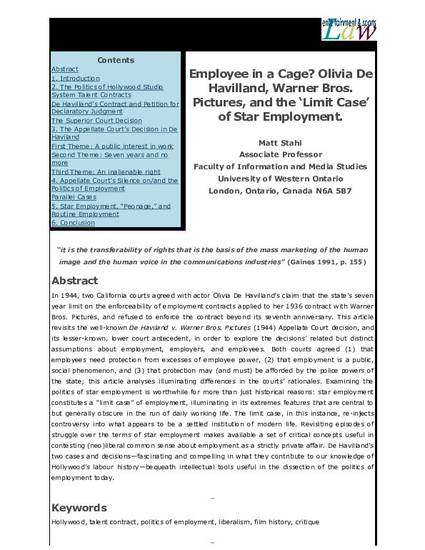 Article
Employee in a Cage? Olivia De Havilland, Warner Bros. Pictures, and the 'Limit Case' of Star Employment
Entertainment and Sports Law Journal
Publication Date
1-1-2014
URL with Digital Object Identifier
http://doi.org/10.16997/eslj.4
Abstract
In 1944, two California courts agreed with actor Olivia De Havilland's claim that the state's seven year limit on the enforceability of employment contracts applied to her 1936 contract with Warner Bros. Pictures, and refused to enforce the contract beyond its seventh anniversary. This article revisits the well-known De Haviland v. Warner Bros. Pictures (1944) Appellate Court decision, and its lesser-known, lower court antecedent, in order to explore the decisions' related but distinct assumptions about employment, employers, and employees. Both courts agreed (1) that employees need protection from excesses of employee power, (2) that employment is a public, social phenomenon, and (3) that protection may (and must) be afforded by the police powers of the state; this article analyses illuminating differences in the courts' rationales. Examining the politics of star employment is worthwhile for more than just historical reasons: star employment constitutes a "limit case" of employment, illuminating in its extremes features that are central to but generally obscure in the run of daily working life. The limit case, in this instance, re-injects controversy into what appears to be a settled institution of modern life. Revisiting episodes of struggle over the terms of star employment makes available a set of critical concepts useful in contesting (neo)liberal common sense about employment as a strictly private affair. De Havilland's two cases and decisions—fascinating and compelling in what they contribute to our knowledge of Hollywood's labour history—bequeath intellectual tools useful in the dissection of the politics of employment today.
Citation Information
Matt Stahl. "Employee in a Cage? Olivia De Havilland, Warner Bros. Pictures, and the 'Limit Case' of Star Employment"
Entertainment and Sports Law Journal
Vol. 12 Iss. 1 (2014)
Available at: http://works.bepress.com/MattStahl/8/